Nvidia has published a new video and entry to its GameWorks developer site explaining new features available within PhysX FleX. We are told that FleX can offer developers new effects with simulated substances interacting with each other seamlessly.
PhysX FleX was previously revealed by Nvidia alongside its applications for rigid body stacking, particle piles, soft bodies and fluids. However Nvidia has further developed its software to enable new visual effects "where different simulated substances can interact with each other seamlessly". The graphics firm further explains "Such unified physics solvers are a staple of the offline computer graphics world, where tools such as Autodesk Maya's nCloth, and Softimage's Lagoa are widely used. The goal for FLEX is to use the power of GPUs to bring the capabilities of these offline applications to real-time computer graphics."
Are you cereal?
Nvidia's focus in the new video is in showing off its Cereal Simulation and Smoke Simulation. The firm's cereal simulation does a good job of showing how rigid and fluid elements interact and react to each other's movement. The liquid of the milk is actually 100,000 particles with modelled surface tension and viscous forces. The cereal hoops have buoyancy are thus ejected from the bowl as the milk overflows. Nvidia's Smoke simulation offers a grid-free method to developers using hundreds of thousands of smoke particles.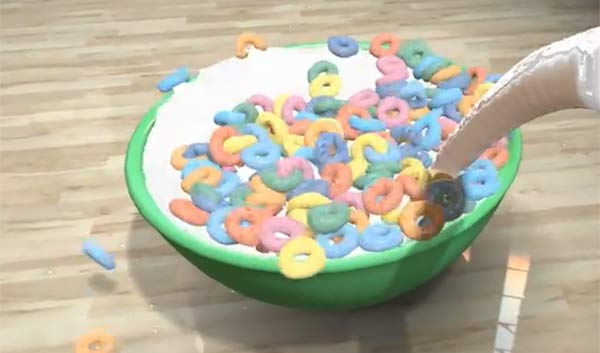 Beyond the above pair of examples, Nvidia has thought of other applications which PhysX FleX could excel in. It thinks that a Wind Tunnel or similar visual effect works well with Flex, as do the modelling of high viscosity fluids (sticky alien gloop?) and fluid-to-fluid interactions.
The key features of PhysX Flex are listed as follows:
Artist-focused tools to ensure turnkey solutions
Unified solver for effects
Rigid/deformable bodies
Phase transition
Particles
Fluids
Cloth
Rope
Adhesion
Gases
PhysX FleX is currently a closed beta for PCs, Nvidia is currently working on UE4 engine integration.