A new article on investment focussed news website Fool.com asserts that "Nvidia Is Pulling Away From AMD," in the graphics card race. The notion is based upon market share trend charts compiled by Jon Peddie Research.
Fool writer Timothy Green suggests that "there's no question that NVIDIA has gotten the better of AMD," over the last four years. The article may have been brought about by a 'blip' as the most recent recorded quarter showing the market share splits looks really bad for AMD, with Nvidia managing to grab over 70 per cent of the tasty Add-in Board (AiB) cake. However, as anyone with a basic statistical education will know, one result doesn't make a trend, but it could admittedly mark the start of a trend.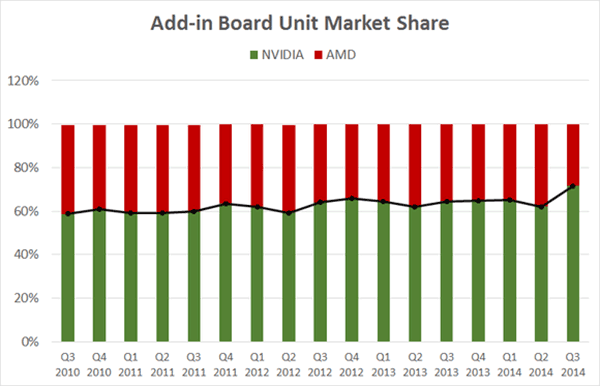 What will Q4 look like? With the recent Nvidia GeForce GTX 970 and 980 hitting the scene AMD has responded with price cuts as we wait patiently for it to strike back – does it have the time or capability to counter the chart blip? With only a few rumours circulating of AMD's next hero cards emerging so far it doesn't seem like something is imminent, not in time to save 2014 Q4.

Captain Jack to the rescue?
AMD has "spread itself too thin"
The root cause of AMD's ills is determined to be the company spreading itself too thin. AMD is battling with Intel on processors with integrated graphics, and Nvidia in discrete graphics - thus it is simply fighting on too many fronts, suggests the Fool report. Looking at expenditure on R&D it is noted that Nvidia invests more and has a narrower product portfolio than AMD. However the writer, an investor in Nvidia stocks, fails to mention all the effort the green team are putting into Tegra, automotive and SHIELD devices. But luckily for Nvidia these investments seem to be doing well.
Looking ahead the Fool article boldly claims that "The only thing keeping AMD afloat today, besides the hope that the future will be brighter, is its deal to supply the game consoles with SoCs". That contractual stroke of luck with Sony and Microsoft "masks the weakness in every other part of AMD's business". Fool writer Green concludes that "All AMD has is hype, and that's just not enough".
We have been delighted with the latest aforementioned graphics card releases from Nvidia here in our reviews at HEXUS but perhaps the Fool article is prematurely dancing on AMD's graphics grave. What do readers think?