ASUS has launched a passive Nvidia GeForce GTX 750 based graphics card. The ASUS GTX750-DCSL-2GD5 is said to offer both "superior stability" and zero noise. It is cooled via a DirectCU Silent dual-slot cooler including a pair of direct contact heatpipes.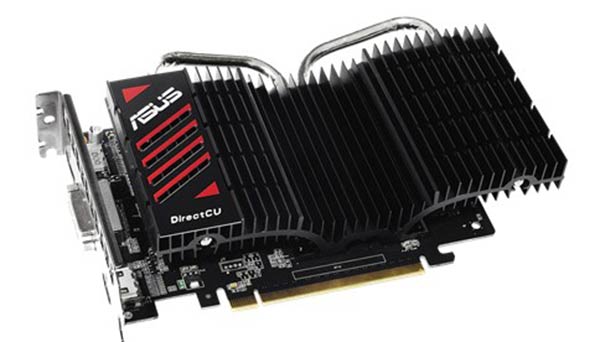 We have seen two other add-in-board makers output similar fanless graphics cards this summer; Palit and ZOTAC. Palit released its KALM silent passive versions of both the GTX 750 and GTX750Ti, however ZOTAC didn't release a passive Ti version. At around the same time ASUS readied a semi-passive Strix cooling enhanced GTX 750 Ti graphics card but now the firm has released its first passively cooled GTX750.
ASUS says that the GTX750-DCSL-2GD5 is perfect for applications such as in a HTPC build. Its silence and ASUS's "advanced EMI shielding reduces electromagnetic interference by up to 66% for a stable signal, pin-sharp images and safer and healthier computing". ASUS Super Alloy Power keeps non-moving parts, that could be a possible source of noise, silent. These parts are also said to run cooler, waste less energy and offer 2.5X lifespan over traditional capacitors.
As mentioned in the intro, ASUS utilises its DirectCU Silent cooler design on this card. It's a combined large heatsink with fins and copper heatpipe solution. It is claimed that this achieves "16% cooler performance than conventional passive cards".
ASUS GPU Tweak with Streaming is compatible with this card for monitoring and tinkering with video card setting and streaming your screen content in real time.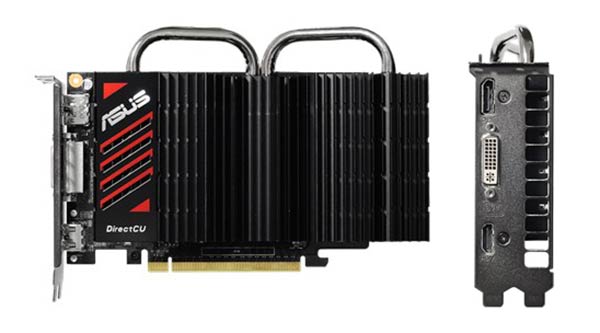 GTX750-DCSL-2GD5 Specifications
Graphics Engine: NVIDIA GeForce GTX 750
Bus Standard: PCI Express 3.0
Video Memory: GDDR5 2GB
Engine Clock: GPU Boost Clock : 1085 MHz, GPU Base Clock : 1020 MHz
CUDA Core: 512
Memory Clock: 5010 MHz ( GDDR5 )
Memory Interface: 128-bit
Interface: DVI Output : Yes x 1 (DVI-I), HDMI Output : Yes x 1, Display Port : Yes x 1 (Regular DP), HDCP Support : Yes
Software: ASUS GPU Tweak & Driver
Dimensions: 7.9 " x 4.53 " x 1.5 " Inch, 20 x 13.5 x4 Centimeter