Intel has updated its graphics drivers for users of 4th generation Core processors. The headline benefits to updating your Haswell based system's drivers is that the integrated graphics component will give you up to 10 per cent better performance in games and up to 30 per cent better performance in OpenCL. This driver update may be particularly interesting to those with systems which rely upon Intel graphics and have no graphic card upgrade options - laptops and devices like the Surface Pro 3, for example.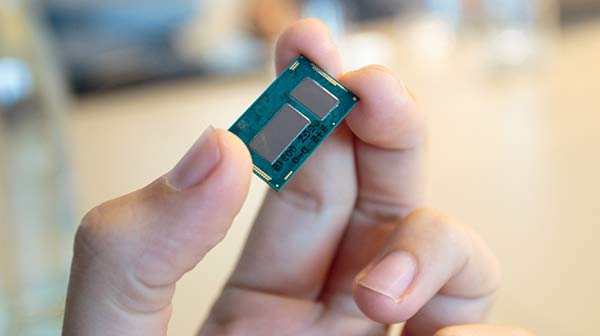 Intel described the graphics driver 15.36.3.3907 & 15.36 6.3.64.3907 highlights as follows:
"This driver provides significant gaming performance for 4th generation Intel Core processors with Intel HD, Iris and Iris Pro graphics provides improvements while enhancing battery life through newer power conservation techniques such as CMAA and Adaptive Rendering Control. Experience up to 30% improvement in performance in certain OpenCL workloads and up to 10% improvement certain games. The new and enhanced control panel offers additional media and display customization capabilities."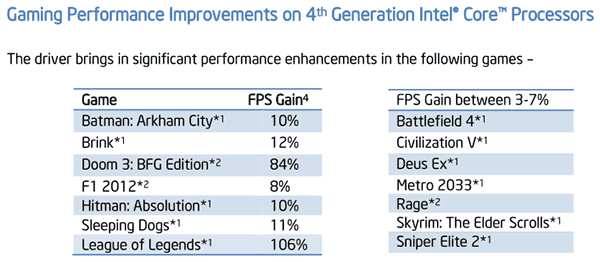 Some good FPS gains are reported
Beyond the headline improvements to performance, Intel says that users of these new drivers can expect less battery life drain when playing casual gaming titles and a range of improvements in its media and display control panel features. Adaptive Rendering is particularly useful for conserving battery as it reduces frame rates in many casual games while nothing much is happening on screen - as the player plots and ponders over his next cunning move, for example.
Intel fixed some issues in this latest driver too. The most notable fix applies to those running a Netflix application using Dolby Digital Plus 5.1 on an Intel NUC - A/V slowdowns should now be eliminated. However some niggles are known about and remain, such as; Google Earth display corruption issues and hibernation/sleep reawakening video preview errors.