Following the launch of Palit's passively cooled Nvidia GeForce GTX 750(Ti) KalmX range of graphics cards we wrote about yesterday, ASUS has announced an interesting SKU utilising the same GPU. The ASUS Strix GTX 750 Ti OC is obviously based upon an overclocked Nvidia GeForce GTX 750 Ti and employs the semi-passive Strix cooling technology we first heard about in May.
As mentioned above, we first saw the owl-themed Strix range appear in May. At that time the range consisted of just two graphics cards; the rather high end Strix R9 280 and Strix GTX 780, based upon the AMD Radeon R9 280 and Nvidia GeForce GTX 780 respectively. Readers should be happy with today's announcement by ASUS RoG, as at that time various comments were made wishing for the Strix cooling tech on a lower end card. Also yesterday some readers thought Palit's totally fanless design would be trumped by something like an ASUS Strix GTX 750 (Ti) model.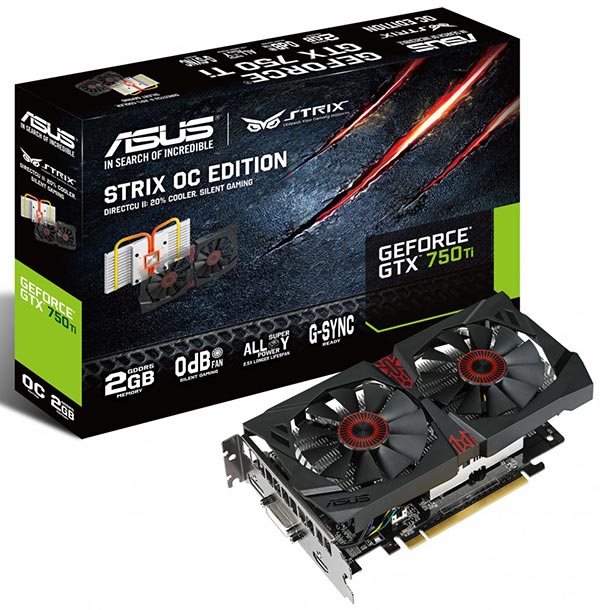 Faster, cooler, quieter and longer lasting
As a reminder of the capabilities and functionality of the Strix range please check out the video below. Also ASUS describes the utility of the Strix cooling system on the ASUS Strix GTX 750 Ti OC as providing up to 7.7 per cent faster performance while the DirectCU II cooler is 58 per cent cooler and three times quieter than reference. It also claims its Super Alloy Power components will give you a product with a 2.5X lifespan.
Counter-Strike played at 1080p = light gaming
Concerning what level of exertion is required before your Strix fans need to spin up, ASUS says that "When playing at high-definition (HD) resolutions of up to 1920 x 1080 pixels, and in environmental temperatures of up to 50°C, the Strix GTX 750 Ti OC automatically stop its fan — allowing gamers to enjoy titles like Counter-Strike Online in absolute (0dB) silence." So now you all know how 'light gaming' is defined by ASUS…
STRIX-GTX750TI-OC-2GD5 specifications:
Nvidia GeForce GTX 750 Ti
PCI Express 3.0
1124MHz base clock speed, 1202MHz boosted speed
2048MB (2GB) GDDR5 memory, 5400MHz memory clock
128-bit memory interface
1 x Dual-link DVI-I output, 1 x DisplayPort output, 1 x HDMI output
ASUS has signalled that the ASUS Strix GTX 750 Ti will be available worldwide from the end of this month. However we don't have any pricing indications as yet.