Today ASUS Republic of Gamers (ROG) has announced a new graphics card using an exclusive DirectCU H2O hybrid air and water cooling solution. The card is called the Poseidon GTX 780 and of course it is powered by the Nvidia GeForce GTX 780 GPU. The headline claims for this new graphics card design are that it offers up to 140 per cent cooler running temperatures, is 3X quieter, yet gives 12 per cent better gaming performance in titles such as Assassin's Creed IV: Black Flag and Battlefield 4.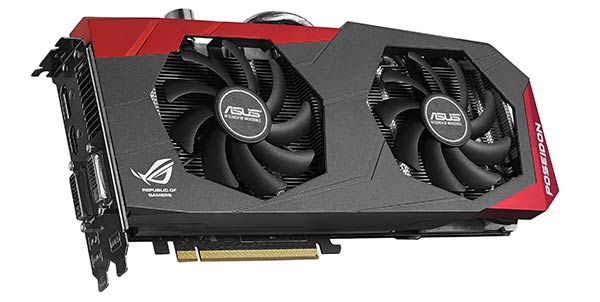 The ASUS DirectCU H2O cooling solution is a hybrid offering which allows users to choose to cool their graphics cards using either air or water. ASUS says that a "custom vapour chamber is in direct contact with the card's GPU for faster heat dispersal, while copper heat-pipes and extended cooling fins further transfer heat out and away from the card to keep it running cool". If you cool by air the DirectCU design can achieve up to 7°C lower running temperatures than reference designs, however if you cool using water the Poseidon GTX 780 can achieve up to 24°C lower temperatures. The water cooler connections are standard G¼-inch threaded fittings.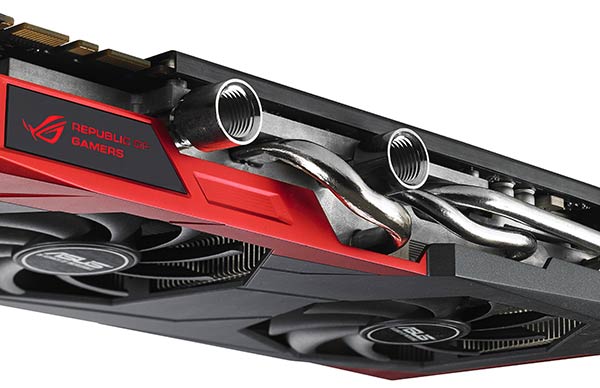 Poseidon-GTX780-P-3GD5 specifications
NVIDIA GeForce GTX 780
PCI Express® 3.0
3072MB GDDR5 memory
1006 MHz core speed
2304 CUDA cores (stream processors)
6008 MHz (1502 MHz GDDR5) memory clock
384-bit memory interface
DVI-/DVI-D output
HDMI output
DisplayPort output
Beyond the hybrid cooling solution which ASUS says can help extend your graphic card's working life, the Poseidon GTX 780 uses several other ROG technologies and innovations. The card's fans are dust-proof, the card uses die-cast thermal 'armour' for improved cooling and uses high grade VRMs, capacitors, 'Super Alloy Power' concrete-core chokes and hardened MSOFETs.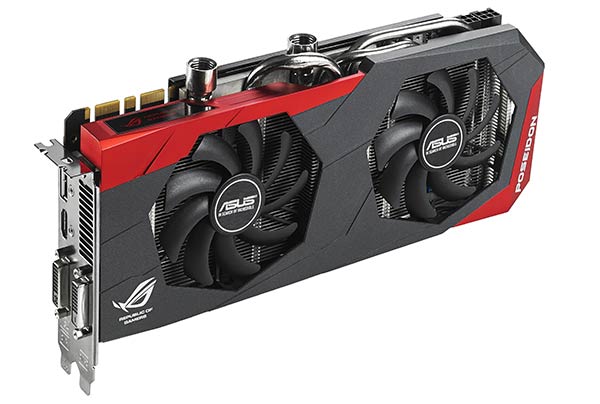 ASUS bundles the ROG Poseidon GTX 780 with 'GPU Tweak' to help you tune the features of this card and help push it to its limits. In this ever more social gaming world 'GPU Tweak Streaming' allows you to share on-screen action with friends. Rounding off the card's features the Poseidon looks rather fetching with its red LED lighting throbbing within your chassis.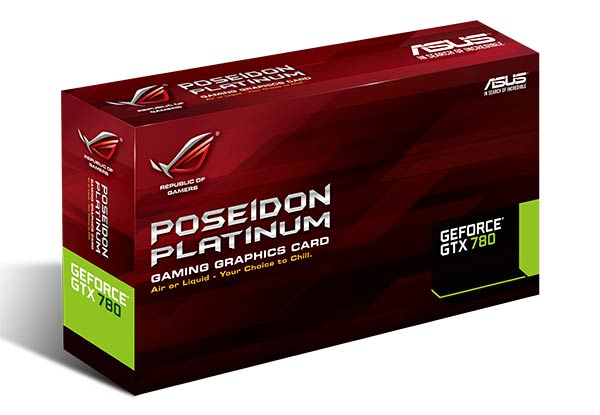 ASUS informs us that the Poseidon GTX 780 will start shipping worldwide from January and the recommended retail price is to be £499.