We know lots of PC gamers are itching to know when the latest and greatest AMD Radeons, powered by the 28nm Hawaii silicon, will arrive. Now it looks like an AMD Account Manager based in China has let the cat out of the bag. VideoCardz (via CardPU) published a communication from AMD employee Chris Li today which states that the Radeon R9 290X will launch tomorrow - on Thursday 24th October (at 5am UK time) and Radeon R9 290 will be detailed and tested by tech sites a week later, on 31st October.

We have previously seen the specs of the Radeon R 290 and 290X from a Japanese retailer leak. I have reproduced that leaked spec image again below. The chart shows that the R9 290X boasts 2,816 stream processors with up to a 1GHz GPU clock, computing performance of 5.6TFLOPS, and 4GB of GDDR5 memory across a 512-bit wide memory interface, clocked at 5.00GHz providing 320GB/s of memory bandwidth. Its little brother the Radeon R9 290 utilises 2,560 stream processors and a clock speed up to 947MHz offering performance of 4.9TFLOPS, with 4GB of GDDR5 memory - employing the same 512-bit wide memory interface as the X-version.
More recently we have also seen a large amount of benchmark results for the Radeon R9 290X leaked, with lots of games compared with Nvidia's GeForce GTX 780 performance in a 4K gaming scenario. While interesting, this isn't exactly what most people are interested in, given the relative rarity of 4K monitors in current ownership.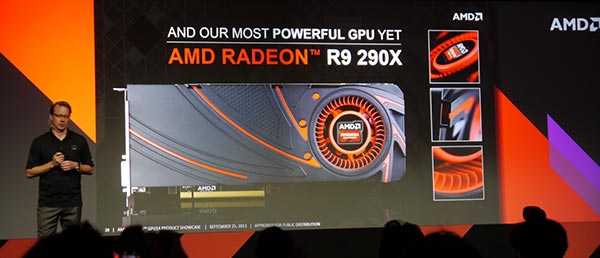 Another interesting morsel from today is an unofficial price indication for the Radeon R290X, published on Fudzilla, which points to a US e-tailer and select retailer price of $549 + tax. This, in their own words, is "quite amazing".
This really is heating up to a great battle with Nvidia which recently responded to the Radeon R9 290(X) threat by releasing news about a GeForce 780 Ti graphics card, a card which has already been subject to leaked specifications.
Let's now wait and see if anything Radeon R9 290X shaped materialises at 5am tomorrow morning...