AMD has officially allowed publishing of some benchmark results from the Radeon R9 290X graphics card pitted against Nvidia's GeForce GTX 780. Just two games were allowed to be tested, the AMD Gaming Evolved titles BioShock: Infinite and Tomb Raider. Also only 4K gaming results were published. Shortly following these official results a leak was spied; a Czech tech site called PCTuning published 4K gaming benchmarks comparing the same two rival red and green team cards at 4K – but in a total of 17 games titles.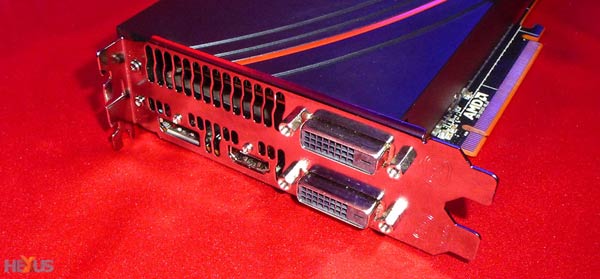 BioShock: Infinite and Tomb Raider
First of all let's look at the officially sanctioned benchmark results. MaximumPC reports that these were cheekily released to coincide with a two day press event Nvidia is holding in Montreal. (Nvidia launched its new bundle deals there.) The test system equipment used was as follows; an Intel Core i7 3960X processor clocked at 3.3GHz, MSI X79A-GD65 motherboard, 16GB DDR3-1600 RAM, and Windows 7 64-bit with SP1. The Radeon R9 290X equipped system used a Catalyst 13.11 beta driver and the Nvidia GeForce GTX 780 system used the v331.40 driver.
Results of testing at 4K (3840x2160) were as follows:
BioShock Infinite (Ultra Settings):AMD Radeon R9 290X "Quiet Mode" average frame rate: 44.25, Nvidia GeForce GTX 780 average frame rate: 37.67
Tomb Raider (Normal Preset w/ TressFX Off): AMD Radeon R9 290X "Quiet Mode" average frame rate: 40.2, Nvidia GeForce GTX 780 average frame rate: 34.5
PCTuning's 4K gaming benchmark leak of 17 games
In the screenshot below (using data from PCTuning), displaying a host of 4K benchmark results for the Radeon R9 290X compared to the GeForce GTX 780, VideoCardz has calculated that the AMD card enjoys a frame rate advantage of over 23 per cent on average. Every game tested performed faster on the new AMD card. The worst result for AMD was in Splinter Cell: Blacklist, where it managed to only pull ahead by four per cent (however it's an Nvidia 'The Way It's Meant To Be Played' title).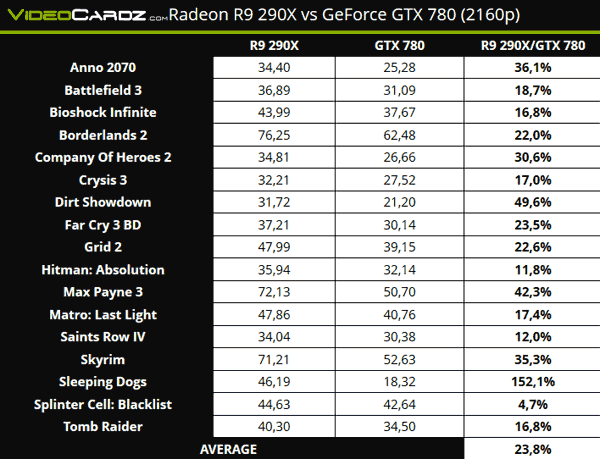 Unlike the officially released benchmarks of BioShock: Infinite and Tomb Raider VideoCardz reports that these benchmarks were harvested using the AMD Radeon in 'Performance' or 'UBER' mode, where the card runs without any consideration about noise pollution.
This is interesting news to warm you all up in readiness for the HEXUS "AMD Radeon R9 290X vs. Nvidia GeForce GTX Titan ... FIGHT!!" coming to you in the near future - see below...