Early this morning HEXUS published comprehensive reviews of the AMD Radeon R9 280X, R9 270X and R7 260X graphics cards. While fascinating reading, many of you were left wondering about the yet to be revealed SKU(s) at the high end - the first members of the AMD Radeon R9 290 Series. Well thanks to a leak from a Japanese retailer, via Hermitage Akihabara, we have a photo of a comparison table showing the specs you can expect in both the Radeon R9 290 and R9 290X.
The picture, embedded below, shows exactly what you get in an AMD Radeon R9 290X and what has been snipped to result in the cheaper non-X variant of the graphics card.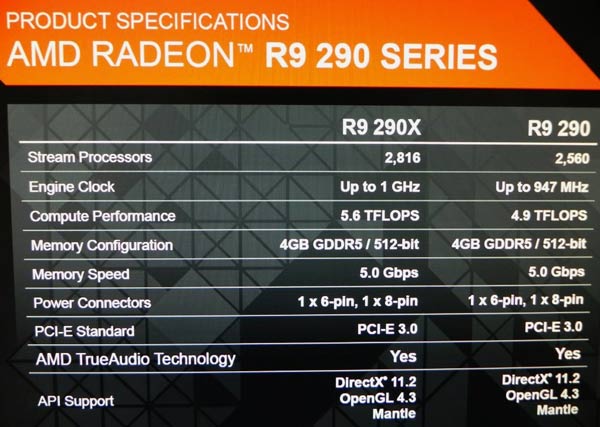 As you can see the spec listed for the Radeon R9 290X matches rumours we published last month. The R9 290X boasts 2,816 stream processors with up to a 1GHz GPU clock, computing performance of 5.6TFLOPS, and 4 GB of GDDR5 memory across a 512-bit wide memory interface, clocked at 5.00 GHz providing 320 GB/s of memory bandwidth.
The AMD Radeon R9 290, we hadn't seen listed before, doesn't look like it has suffered significantly under the transistor scalpel. This non-X variant still boasts 2,560 stream processors and a clock speed up to 947 MHz offering performance of 4.9 TFLOPS. It sticks with the same 4 GB of GDDR5 memory across a 512-bit wide memory interface as the top-end model and all other interfaces and specifications seem to be equal.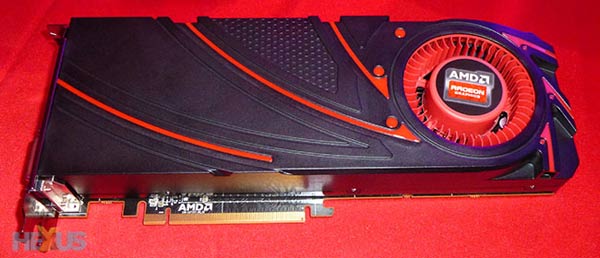 All these stats are very interesting but of course we can't be sure leaks like this are 100 per cent genuine. Also further vital juicy pieces of information are still missing; like the real world benchmark results from HEXUS labs and the value these graphics cards will represent when we know the retail pricing. Rest assured that reviews for these upcoming cards will be released the minute that it is permissible to do so.