Just before the weekend an interesting tale of PC gaming on 4K monitors was uploaded to the official Microsoft Extreme Windows Blog. The twist is that Microsoft's Gavin Gear used three such monitors in an AMD Eyefinity setup, powered by ASUS HD 7970 DirectCU II graphics card(s). The result was a super wide 11,520 x 2,160 pixel display (24,883,200 pixels) upon which the writer enjoyed "an amazing set of experiences" including a Dirt 3 session.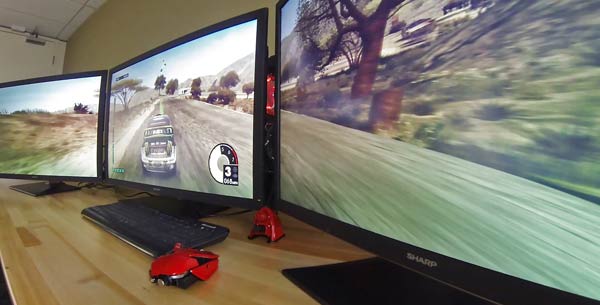 Just less than a fortnight ago HEXUS reviewed 4K gaming experiences using the ASUS PQ321Q 4K monitor with three top-end graphics cards; the ASUS GTX 780 OC, Nvidia GTX Titan and AMD HD 7970 GHz Edition. This made it even more fascinating to see what Microsoft has done in its own tests with three 4K monitors and between one and three AMD HD 7970s.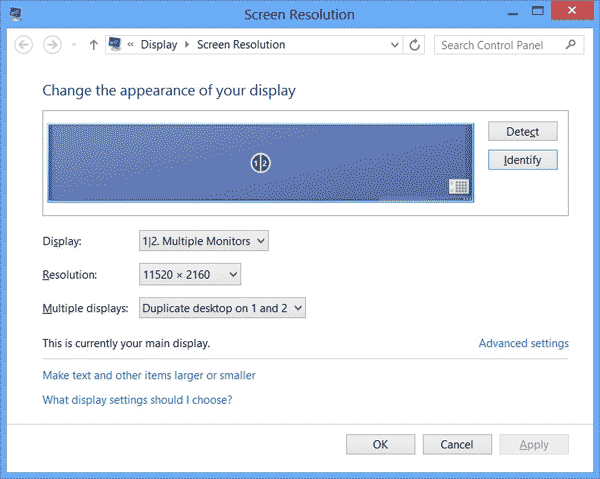 Microsoft started gently by running Dirt 3 on the setup using a single installed graphics card and displays at 30Hz refresh rate. Gear wrote: "Running Dirt 3 at 11,520 x 2,160 with settings maxed out resulted in a frame rate just below the 30 Hz target. I closely examined my graphics settings, and was able to turn off some features that optimized the gameplay experience. One of the most important changes I made was to turn off multisampling as it's not important at high resolutions and it does impose a performance penalty. Settling on medium to high overall settings I was able to hold an average frame rate of about 35fps. Because I was not dropping frames with this setup the overall gameplay experience was awesome, and the sheer quantity of pixels was truly like nothing I've experienced before!"
Microsoft followed this success by trying various combinations of screens , refresh rates and extra graphics cards. Gear went as far as using a 3-way AMD 7970 Crossfire setup with the three monitors for 60Hz 12K gaming fun. With this setup, and the help of a "custom driver build" from friends at AMD, he could run "all settings on 'High' except shadow detail and particles, we were able to maintain 62-67fps average, peaking over 70fps". The 750 watt power supply let the rig down though as it would reset the system after several minutes.
Have a gander at the video below showing some details of Microsoft's 12K gaming demos. Also you can read more on Microsoft's Extreme Windows Blog.