Nvidia's partners are lining up in support of the newly-unveiled GeForce GTX 760, and KFA2 is proving to be more gung-ho than most by launching three unique SKUs right from the off.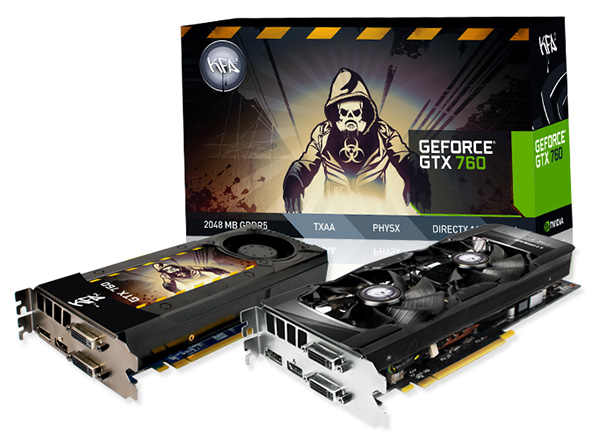 Starting off the range is the reference-like KFA2 GeForce GTX 760 which, save for the company branding, carries the same cooler and the default core and memory clocks of 980MHz and 6,008MHz, respectively. Keeping in line with Nvidia's SRP, this card is available priced at £200 on the dot.
Moving things up a notch or two, the custom-cooled KFA2 GeForce GTX 760 EX OC edition (pictured above, right) is to be made available in 2GB and 4GB flavours. Both are to be overclocked right out of the box, coming in at 1,058MHz on core, with GPU Boost 2.0 rated at 1,110MHz. The 2GB EX OC is already available at UK retailers priced at around £230, but it remains to be seen what kind of a price premium the 4GB variant will carry, and whether or not the larger frame buffer will show a tangible increase in game performance.