Apple's pro-sumer Mac Pro desktop PC doesn't receive the attention-grabbing headlines of the consumer-focussed iPads and MacBooks but is a solid product nonetheless. Apple states that it can be equipped with '12 cores of processing power' and features 'high-performance Radeon graphics'. This £2,000 machine's high-performance graphics are, in fact, a Radeon HD 5770, though the user can upgrade to a Radeon HD 5870 or dual HD 5770s at the time of purchase.
It's clear that the Mac Pro is very much behind the times as far as graphics are concerned. Sapphire spies a very large - and, more to the point, profitable - gap in the market and is bringing a Radeon upgrade for existing and potential Mac Pro owners.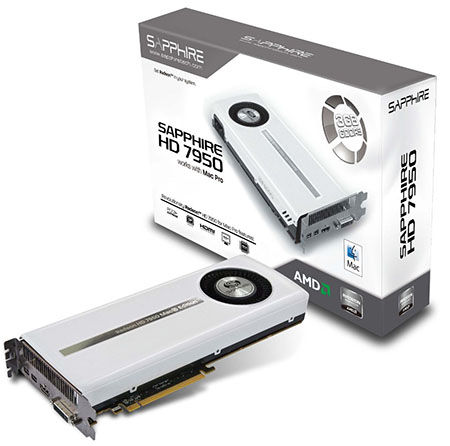 The Sapphire Radeon HD 7950 Mac card uses the same architecture as found on the regular version released over a year ago. This means it has 1,792 shaders clocked in at 800MHz and a 3GB frame-buffer running at an effective 5,000MHz. It's worth noting that the Mac Edition doesn't have the PowerTune with Boost technology available on newer models of the PC card. Outputs include two mini-DisplayPorts and a dual-link DVI.
You may be wondering why a regular card cannot be used inside a Mac Pro. The answer is that the Mac card requires a different, Apple-approved BIOS. Sapphire uses the dual-BIOS functionality present in these cards to program one with an Apple BIOS and the other with Windows. Sapphire supports Mac OS X 10.7.5 (Lion) and later.
'Exclusive to SAPPHIRE, the HD 7950 Mac Edition is based on AMD's latest Graphics Core Next (GCN) architecture. This highly acclaimed architecture delivers a significant graphics performance boost for Mac Pro users in a wide range of applications including gaming, audio or video editing and content creation. For example, gaming frame rates are increased by over 200%, general benchmark performance increased by around 30% and graphics intensive benchmarks increased by as much as 300% compared with the NV 8800GT commonly used in these machines,' Sapphire said in a press statement.
And the Apple tax? The card is set to be made available for $479, or 60 per cent pricier than a PC-only card... and, for what it's worth, that's without any of the games provided by AMD's Never Settle bundle.
Expensive though it is, this appears to be the simplest method of upgrading the graphics power on any post-2010 Mac Pro computer that features a x16 PCIe slot.
Interestingly, and potentially throwing a small spanner in the Sapphire works, the current Mac Pro is no longer for sale in Europe from March 1, 2013. Signs are that a newer, faster (better graphics) version is coming out in the spring. Stay tuned.