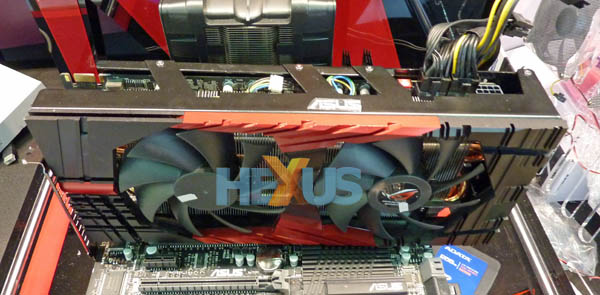 AMD claims the Radeon HD 6990 is the fastest graphics card on the market. NVIDIA makes noises that its dual-GPU beastie GeForce GTX 590 is top dog.
A partner for both companies, ASUS is planning to blow their high-octane GPUs out of the water with a custom-designed behemoth of a card.
We managed to grab a hastily-taken picture of the MARS II. This bad boy is said to taken in two full-fat GeForce GTX 580 - hopefully at full speed, too - and cram them into one oversized card.
ASUS wasn't at all keen on us poking around with the card at COMPUTEX 2011, so we have little to divulge in the way of speeds and feeds. We leave it to you, dear reader, to take an educated guess at the specifications of this monster. Reckon it'll become the indisputable graphics champ for this year?