It wouldn't be a proper tech-show without someone running a ray-tracing demonstration, and this year's IDF is no different. Intel was on hand to show Wolfenstein running with the advanced lighting-effects in real-time on a current-gen laptop - almost.
The notebook was actually just used as a thin-client, while the heavy lifting was carried out by a 'cloud' of four Intel servers using the company's Knight Ferry platform. The add-in boards - which have recently begun shipping to partners - use a 'Many Integrated Core' (MIC) architecture and share many design and architectural elements with the cancelled Larrabee video-cards.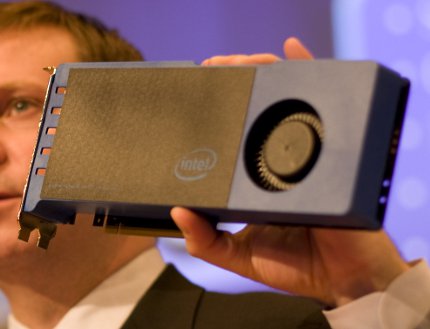 The Knights Ferry board
Rather than playing games, these boards are designed for the high-performance computing (HPC) market where massively-parallel tasks are common. Ray-tracing, being an incredibly intensive and highly-parallel exercise, is perfectly suited to show-off the platform by taking advantage of the computational-power on offer.
The demo showed a very detailed chandelier, a well-polished car and a surveillance station where each screen was updated in real time. All of this was being rendered at a very smooth 40 to 80 frames-per-second by the servers, which was then displayed on a laptop (presumably) over a network connection. While we aren't quite at ray-tracing on a consumer PC yet, it's still quite an impressive demonstration.
Obviously this doesn't have much of a practical impact for the average gamer. However, cloud-based rending-services - like OnLive - are starting to enter the realm of feasibility, and Intel looks like it could be well positioned to provide the servers that will power these systems.
More detail's on the specifics are also available from our man on the ground at IDF.