When we tested MSI's Radeon HD 5770 Hawk, we were impressed by the excessive attention given to overclocking, but would have preferred to see more aggressive clock-speeds. Now the company is giving NVIDIA's GTX 460 the same treatment, but this time it's setting its sights a little higher.
With stock frequencies of 780MHz for the core, 1,560MHz for the shaders and 900MHz for the 1GB frame-buffer, the new Hawk isn't going to turn too many heads right out of the box. However, this card has a lot more potential than the numbers let on.
MSI is taking aim at the elusive 1GHz barrier, and giving overclockers every tool that they might need to reach it. For starters, the card is equipped with the company's Twin Frozr II cooler, which we already knows does an excellent job at eliminating heat while remaining nice and quiet.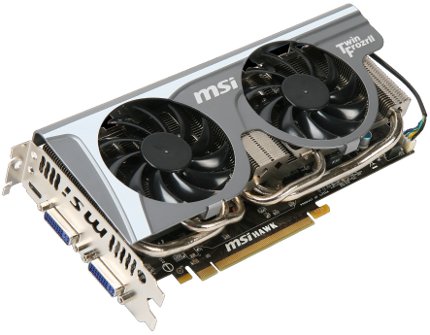 The PCB has also been completely redesigned with a clear focus on stability. The board features 7+1 phase power-circuitry, voltage-check points and the company's 'military class' components to ensure a long life-span.
As with all of the models in the Hawk range, MSI is shipping this one with the combination of Afterburner and Kombustor software to control every facet of the card. For the first time, this includes the ability to set the voltage on the memory, GPU and the PLL. The manufacturer believes that this will allow a greater degree of control, making lofty overclocks just a little easier to achieve.
The GTX 460 Hawk looks like a solid take on NVIDIA's design, and we'd love to see if MSI's claims of an overclock to 1GHz have any merit. While we still would have preferred to see slightly higher speeds out of the factory, the company has given users everything that they need to reach those frequencies for themselves.
We don't have details on pricing or availability, but based on prior experience, we would expect this card to cost £30-35 more than a vanilla GTX 460 when it ships.