It's still nigh on impossible to find a GeForce GTX 480 or GTX 470 graphics card in stock, but if you're itching to get your hands on one, how about something that's likely to be both cooler and quieter in operation, whilst providing additional overclocking headroom?
If that criteria is high on your list of priorities, then you'll be pleased to hear that Inno3D is getting ready to spice up its GeForce GTX 400-series range with a couple of liquid-cooled "Black Freezer" editions.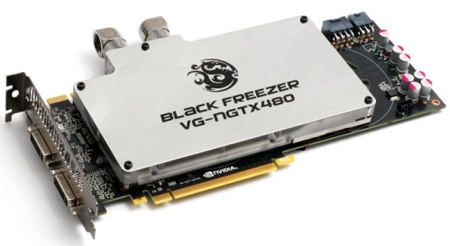 The Hong Kong-based manufacturer will join the likes of EVGA with its liquid-cooled GTX 480 and GTX 470 cards, and though there's currently no mention of clock speeds, the cooler looks impressive - with the waterblock covering almost the entire PCB.
Inno3D is merely teasing at this stage, so we've no idea when you'll see these in store, but you can bet they won't come cheap.