We found NVIDIA's GeForce GTS 250 to be much ado about nothing when it arrived on the scene back in March.
Nonetheless, the card remains one of NVIDIA's main mid-range offerings, and Inno3D continues to do its best to make the card a little more attractive. Earlier this year, it announced a Freezer X edition, and it's today following up with a range-topping iChiLL derivative.
The card, dubbed - wait for it - the Inno3D iChiLL GeForce GTS 250 AC Twin Turbo Pro, features Arctic Cooling's four-heatpipe Accelero Twin Turbo Pro cooler and promises to run 23°C cooler than NVIDIA's reference design.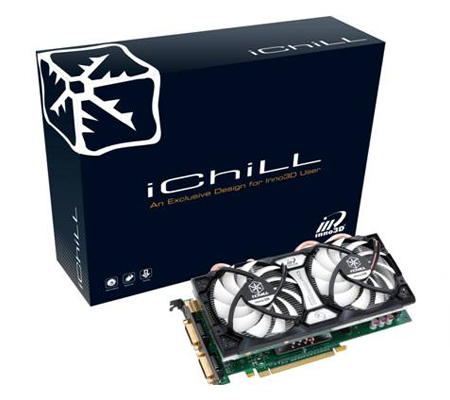 Despite the beefed-up cooling, Inno3D has opted not to pre-overclock the card. It'll ship with its GPU at 738MHz and 1GB of GDDR3 memory clocked at an effective 2,200MHz.
There's no mention of pricing just yet, but Inno3D tells us the card is ready to ship and will appear at retail stores in the very near future.