With AMD seemingly concentrating its attention on mid-range GPUs such as the recently-launched ATI Radeon HD 4770, the ultra-high-end space remains crowned by NVIDIA's GeForce GTX 295.
NVIDIA's monster, launched back in January, still holds the single-card performance crown and if you're after some of that souped-up dual-GPU action, Inno3D has an upcoming derivative dubbed the GeForce GTX 295 Platinum Edition.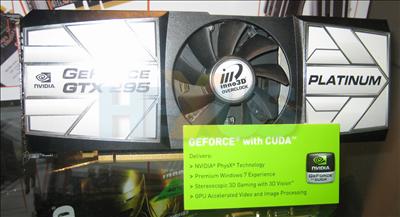 The card, pictured above, sports a custom cooling solution and is one of many upcoming GeForce GTX 295s to be built on a single PCB (printed circuit board).
With the all-new PCB squeezing both GPUs into a side-by-side arrangement, Inno3D's managed to raise the card's core frequency from 576MHz to 600MHz and the card's 1,792MB of GDDR3 memory finds itself clocked at 2,160MHz - up from 1,998MHz.
Good news on the speed front, then, but not so good news for connectivity options. Unlike NVIDIA's reference design - which also sports HDMI due to its dual-PCB layout - Inno3D's Platinum Edition offers only dual-link DVI.
Needless to say, it'll be stupidly quick and, though there's no mention of pricing, it'll begin shipping very soon.