Inno3D has become the latest NVIDIA partner to try its hand at energy-saving GPUs with the launch of its aptly-titled GeForce 9-series E-Save Editions.
The range, currently consisting of three graphics cards - the Inno3D GeForce 9800 GT E-Save, 9600 GT E-Save and 9600 GSO E-Save - promises to lower GPU power consumption by up to 40 per cent in 3D mode and by up to 60 per cent when idle. An impressive saving, and useful for those yearning to do their bit for the environment.
How does Inno3D manage to do it? Well, each of the cards is built using a 55nm G94 GPU and features phase switching thanks to a new PCB design. The result is a core that runs at 1.0V, and graphics cards that don't necessitate a six-pin power connector.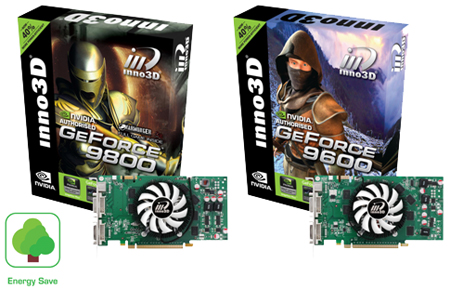 However, and as with most other energy-saving graphics cards, a less-marketed area of each GPU is its core clock speed - which, in an effort to lower power consumption, is downclocked from NVIDIA's reference design by 50MHz.
Inno3D details the specification of its E-Save range as follows:
Specification

9800GT
E-Save

9600GT
E-Save

9600GSO
E-Save

Processor Cores

112

64

48

GPU Clock (MHz)

550

600

600

Shader Clock (MHz)

1500

1625

1500

Memory Clock (MHz)

1800

1400

1400

Memory

1GB/512MB

1GB/512MB

1GB/512MB

Memory Interface

DDR3

DDR3

DDR3

Memory Type

256-bit

256-bit

256-bit

Memory Bandwidth (GB/sec)

57.6

57.6

38.4

Texture Fill Rate (billion/sec)

33.6

20.8

26.4

RAMDAC

400MHz

400MHz

400MHz

SLI Ready

Yes

Yes

Yes

Output

Dual-Link DVI

Dual-Link DVI

Dual-Link DVI

HDTV

Optional

Optional

Optional

HDCP

Yes

Yes

Yes