Imagination Technologies has launched its fastest GPU IP ever. This 10th generation evolution of the PowerVR architecture is designed to "fulfil the graphics and compute needs of the full spectrum of next-generation devices," and has thus been dubbed "the GPU of everything." It is aiming to compete in the widely disparate markets of automotive, AIoT, and computing through to DTV/STB/OTT, mobile and server.

Hopefully this GPU jack-of-all-trades isn't a master of none. Well it shouldn't be as IMG has three solutions based on the new GPU, tweaked to appeal to the various target markets mentioned above. In brief there will be the AXE area-optimised fill rate-focussed GPUs for entry level devices, the more balanced AXM which will be good for smooth UIs, 60fps gaming and powerful AI in a compact SoC, and the AXT (4 variants) for high-end to premium flagship devices.
The CEO of Imagination Technologies, Dr Ron Black, is of course bullish about the new IMG A-Series capabilities and prospects. "IMG A-Series is our most important GPU launch since we delivered the first mobile PowerVR GPU 15 years ago and the best GPU IP for mobile ever made. It offers the best performance over sustained time periods and at low power budgets across all markets." Black repeated the marketing slogan du jour "It really is the GPU of everything."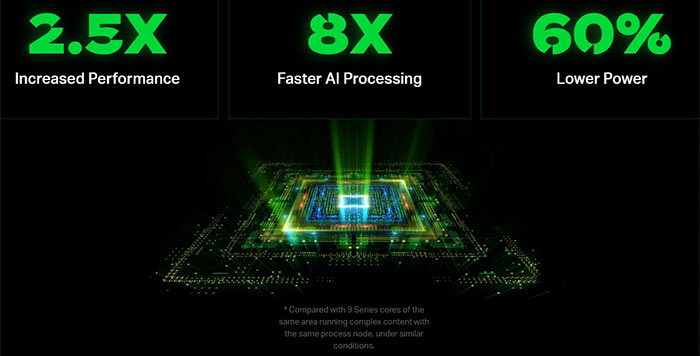 Looking at the claimed specs and performance metrics, the IMG A-Series does indeed seem like a significant step. In its own testing, at the same clock and process, Imagination says the A-Series GPUs deliver 2.5x the performance, 8x faster machine learning processing, and 60 per cent lower power consumption than current PowerVR devices that are shipping. Moreover, compared with competitors at the same clocks and process the A-Series will be faster and lower power.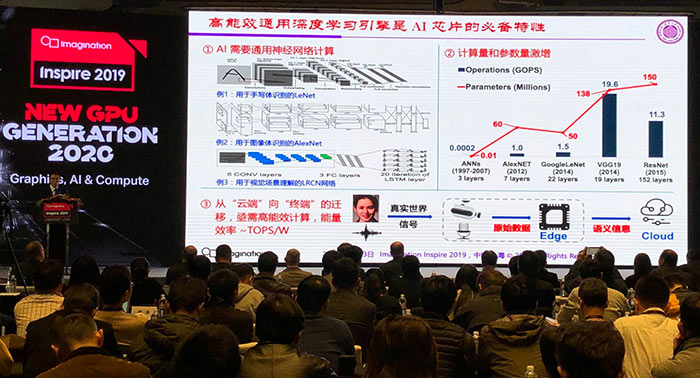 The low power claim isn't just about prolonging battery life. Imagination claims that the A-Series will be good for "sustained operation without clock throttling – which is certainly going to please gamers." That is quite a claim, and it won't be until devices ship that it can be verified and tested thoroughly.
The IMG A-Series also boasts some interesting differentiators. For example it includes PVRIC4 visually lossless compression, plus new algorithms for level of detail (LOD) and anisotropic filtering. These features are said to help deliver the "best gaming experience on mobile, smart TV and set-top box". Throughout the range of the A-Series chips you will find HyperLane Technology offering up to eight individual, isolated hardware control lanes, for secure, efficient and smooth multitasking. Ai Synergy is another new feature which enables programmable, flexible AI workloads on the A-Series GPU alongside graphics, while offloading fixed-function AI to a dedicated neural network accelerator.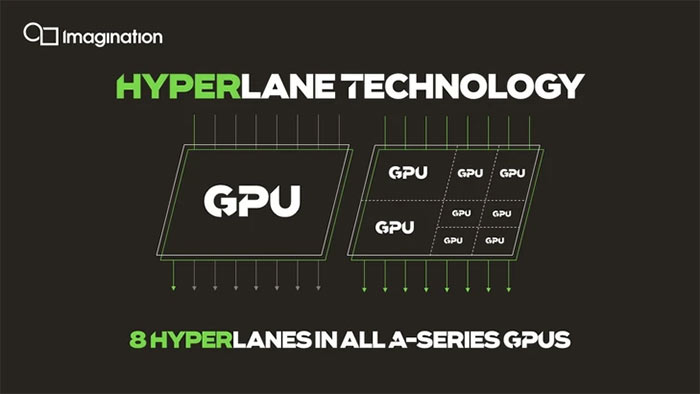 The IMG blog contains some more interesting background information on architectural changes. It indicates that the most significant single change was the move from a dual MAD x32-wide ALU (arithmetic logic unit) to a single MAD 128-thread wide ALU - which can perform many more instructions per clock.
We don't have a precise timetable for the introduction of devices which will make use of the new A-Series GPUs from IMG. However, it shouldn't be a long wait as the form asks readers to watch out for these GPUs in your next device.
IMG A-Series, the highest performance mobile GPU IP ever released, is available in four high-performance and one mid-range configuration:
IMG AXT-64-2048 for flagship performance; 2.0 TFLOPS, 64 Gpixels and 8 TOPS of AI performance
IMG AXT-48-1536 for premium mobile; 1.5 TFLOPS, 48 Gpixels and 6 TOPS
IMG AXT-32-1024 for high-performance mobile and automotive; 1 TFLOPs, 32 Gpixels and 4 TOPS
IMG AXT-16-512 for high-mid-performance mobile and automotive; 0.5 TFLOPS, 16 Gpixels and 2 TOPS
IMG AXM-8-256 for mid-range mobile; 0.25 TFLOPS, 8 Gpixels and 1 TOPS
For lower cost segments IMG A-Series delivers the best in area, cost and efficiency:
IMG AXE-2-16 for premium IoT, entry DTV/STB, display and other fillrate driven applications; 2 PPC, 16 GFLOPS and 2 Gpixels
IMG AXE-1-16 for entry-level mobile and IoT and the fastest Vulkan-capable GPU in its class; 1 PPC, 16 GFLOPS and 1 Gpixels
IMG A-Series summary
The best performing GPU IP ever
2.5x performance density compared to the best current shipping PowerVR devices
Scales for use in all GPU market segments
Single core options from 1 PPC to 2.0 TFLOPS
High-performance density giving the best implementation cost for manufacturers and device price for consumers
HyperLane Technology including support for multizone hardware virtualization technology delivering stability, security and robustness
Automotive options package with long-term support, ISO 26262 certification readiness and documentation
PVRIC4.1 lossless or visually lossless image compression, guaranteeing 50% bandwidth and footprint reduction all the time
Advanced flexible direct power control technology
Unified AI API for use in combination with PowerVR neural network accelerators
Supports the latest API standards including OpenGL ES, Vulkan, OpenCL