Intel has taken the wraps off its new Ponte Vecchio GPUs at an event kicking-off the Supercomputing 2019 (#SC19) conference in Denver, Colorado. Ponte Vecchio is a general purpose GPU built on the Intel Xe architecture and will first be utilised for HPC and AI workloads. The 7nm GPU design leverages Intel Foveros 3D and EMIB packaging augmented with tech such as high-bandwidth memory, Compute Express Link interconnect and more.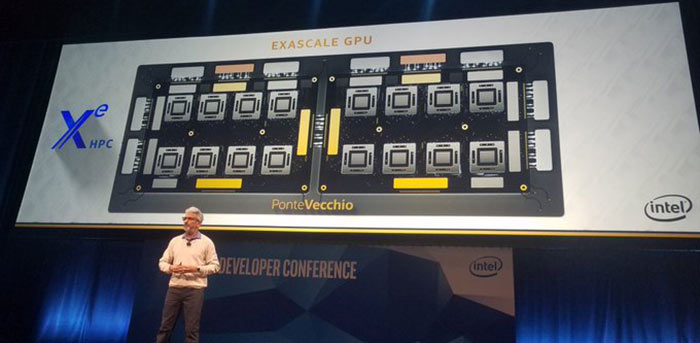 Intel's Raja Koduri took to the stage to introduce Ponte Vecchio. During his keynote speech Koduri explained that Intel has a single Xe GPU architecture now ready but it will deliver multiple sub-architectures for various market segments. This initial unveiling covers the HPC/Exascale, DL/Training segments as you can see referred to as Xe HPC and Xe HP in the diagram below.
Ponte Vecchio is the Xe GPU aimed at these top two segments (HPC/AI acceleration) and as an 'exascale GPU' it will include things that may not appear in lower echelon designs such as; a flexible data-parallel vector matrix engine, high double precision floating point throughput, and ultra high cache and memory bandwidth.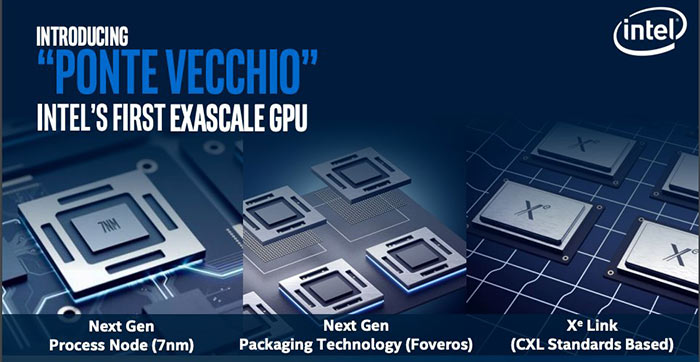 Intel wielded multiple cutting edge technologies to create Ponte Vecchio GPUs. In slides you can see featured; 7nm process tech, 2D and Foveros 3D packaging, plus Xe Link EMIB to connect multiple chiplets together.
While all the above is interesting for a teaser, and sounds full of potential, there are still a lot of questions about the Xe GPU that were barely touched upon. You will note a lack of spec sheets with this news release, so we won't be comparing Ponte Vecchio with rival Nvidia and AMD GPUs aimed at HPC/AI acceleration today.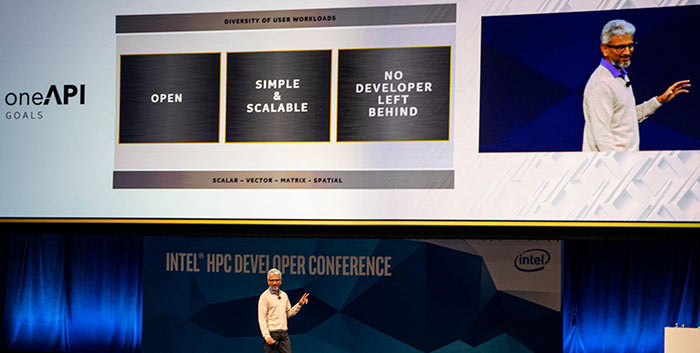 Intel spent quite some time in its keynote talking about the oneAPI software stack. It sums this up as a "developer-centric approach to heterogeneous computing." The oneAPI specification includes a direct programming language, powerful APIs and a low-level hardware interface which seeks to eliminate the complexity of separate code bases, multiple-programming languages, and different tools and workflows.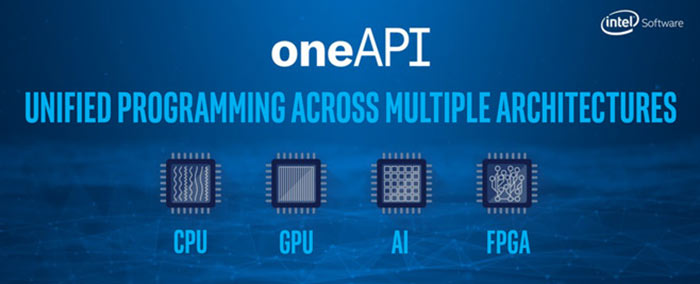 A (beta) release of oneAPI targets Intel Xeon Scalable processors, Intel Core processors with integrated graphics, and Intel FPGAs, with additional hardware support to follow in future releases. oneAPI tools are already available for download for test driving in the Intel oneAPI DevCloud.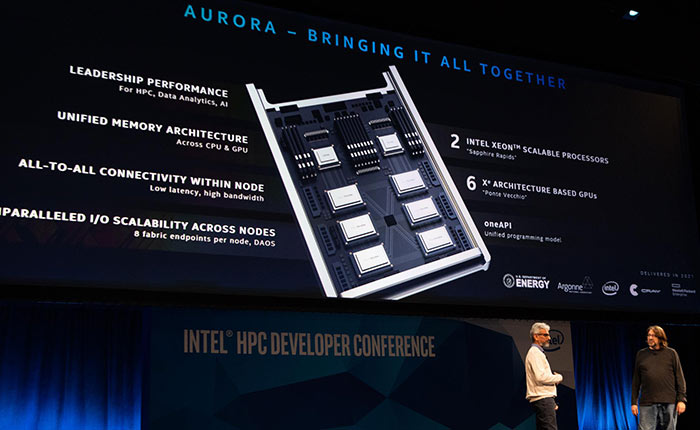 Last but not least, Intel has already got a big name collaborator willing to invest in its Ponte Vecchio GPUs and oneAPI software. The new Aurora supercomputer system at Argonne National Laboratory will use this new Intel tech at its heart. A wide portfolio of Intel products will be utilised by Aurora; building upon the Intel Xeon Scalable platform with 10nm Sapphire Rapids CPUs, using Xe architecture-based Ponte Vecchio GPUs, as well as Intel Optane DC persistent memory and connectivity technologies. In other stats, Aurora will support 10 petabytes of memory and over 230 petabytes of storage.The new Aurora supercomputer is expected to be delivered in 2021.