Yesterday evening Intel shared its Q3 2019 financials. Business centric news sites like CNBC report that investors were very pleased with the figures, and this is evidenced by the Intel stock price moving up as much as 8 per cent in afterhours trading. However, there was perhaps a much more interesting news morsel shared by Intel Chief Executive Officer Bob Swan, in a post results conference call. Swann told investors that Intel has powered on the Intel Xe DG1 graphics card for the first time in the lab. A tweet by Chris Hook celebrated this milestone.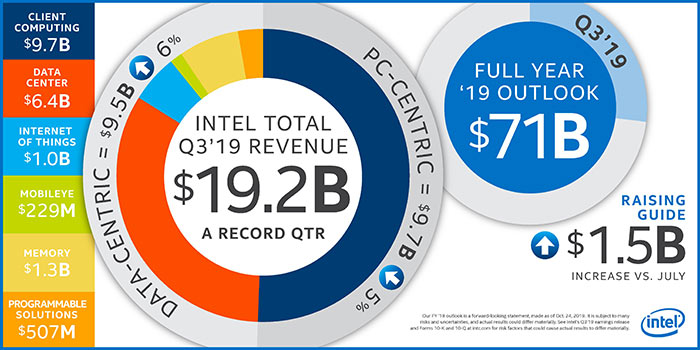 Starting with a financial news overview, Intel's Q3 revenue set a new record at $19.2bn. Furthermore, EPS was up 2 per cent YoY, and Intel raised its full year revenue outlook to $71bn - that is $1.5bn up from guidance provided in July.
"Our third-quarter financial performance underscores our progress as our data-centric businesses turned in their best performance ever, making up almost half our total revenue in a record quarter," said Bob Swan, Intel CEO. Indeed it was data centric revenue which was largely responsible for the uplifts (6 per cent up YoY). Meanwhile PC-centric revenue declined 5 per cent YoY.

Above you can see that particular stars behind Intel's recent growth are MobileEye advanced driver assistance tech adoption, and growing sales by Intel's memory business (NSG). IoT growth was a pretty good contributor to growth too. However these growing 'data-centric' segments, even banded together, still only generate a fraction of the revenue of Intel's PC-centric business.
Looking for positives with regard to the PC-centric business, Intel trumpets major manufacturer interest in 10nm-based 10th Gen Intel Core processors. It says that 18 new Ice Lake-powered system designs have shipped to date, with a total of 30 designs expected to launch in 2019.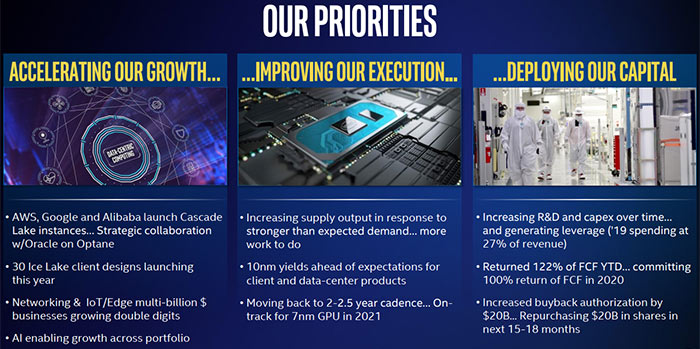 Intel graphics have been a particularly interesting segment since it has started to invest more seriously in GPU development. As mentioned in the intro, during a conference call the Intel CEO said that an Intel Xe discrete GPU card has successfully powered on in the labs. We still expect first availability to be in the latter half of 2020. Swann added that Intel is on track to deliver a 7nm GPU in 2021 and is "well down the engineering path" for 5nm production, reports Legit Reviews.