More evidence of AMD preparing lower-to-mid range Radeon RX 5000 series graphics cards has emerged via a benchmark run on the cross platform GFXBench v5. Checking the online database, we can see someone ran the 'Manhattan' high level test using a system packing an AMD Radeon RX 5500 graphics card.
In its Manhattan test, the RX 5500 rendered 5021 frames in the standard time allotted, that figure is equivalent to 81fps (OpenGL). For comparison with another modern AMD GPU, the Radeon RX 5700 XT rendered 8905 frames, which is approx 144fps (DirectX).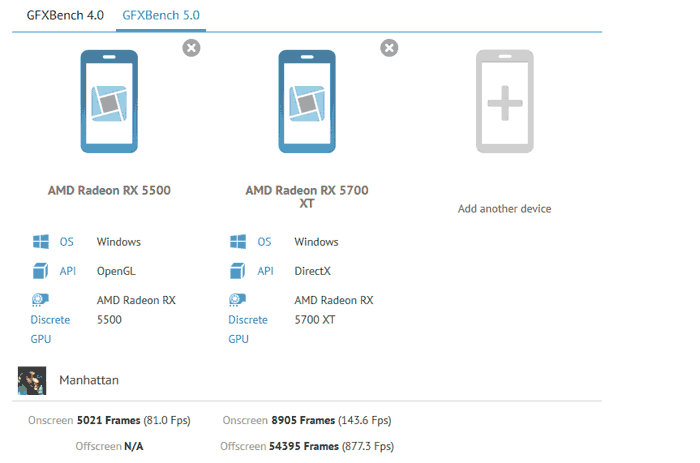 Twitter tech bloodhound Komachi uncovered this result but conclusions from this single benchmark with regard to how the RX 5500 will perform and how it will fit into the product stack is difficult. TechPowerUp reckons this is a lower-end Navi (rather than Polaris-based) GPU. It suggests the RX 5500 will square up against the Nvidia GeForce GTX 1660/1660 Ti GPUs which is a potentially lucrative area of the graphics card market if things shift in numbers.
As a reminder, we saw evidence of upcoming HP Pavilion PCs packing AMD Radeon RX 5300 XT graphics yesterday. This retailer leak suggests that AMD plans to launch a range of lower end Radeon RX 5000 series graphics cards in early October.