Three fans, five heatpipes and 107 fins
When ramping up the core clock speed of a GeForce 9800 GTX to 720MHz, you're going to need that extra bit of chill-factor. That then, is why Inno3D's overclocked i-Chill GeForce 9800 GTX has an Arctic Cooling Accelero Xtreme strapped to itself.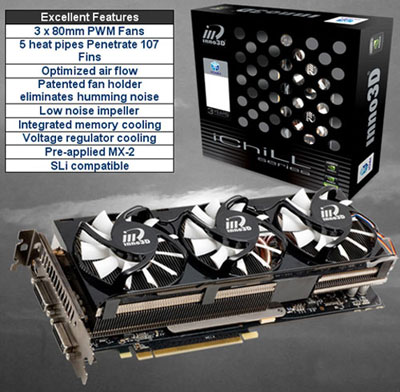 The SLI-capable card, pictured above, features 512MiB of GDDR3 memory clocked at 1,150MHz. To help keep it cool are three 80mm PWM fans, five heat pipes and some 107 fins. There's even a touch of Arctic Cooling's MX-2 thermal paste for good measure.
Inno3D describes the card as the "ultimate cooling weapon for all hardcore gamers" and claims its air-flow design to be capable of dissipating 240 watts of heat. According to Inno3D, the card will run 20 degrees cooler than NVIDIA's reference design, and despite its triple-fan cooling, it'll run quieter too.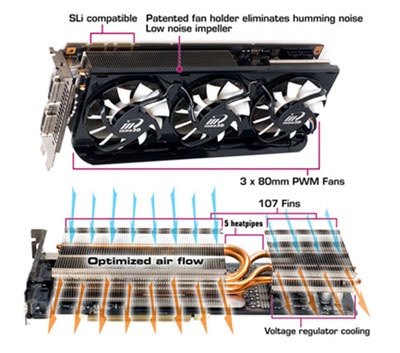 Unfortunately, there's no indication of price, or a release date, just yet.
Official press release: Inno3D i-Chill GeForce 9800GTX Accelero Xtreme