Sometime yesterday Nvidia started a Twitter teaser campaign, which could easily go by the name "They're coming". It Tweeted that phrase, alongside a video showing the lid of a gaming laptop opening up. Amongst the rainbow of twinkly lights spread across the screen and keyboard, eagle eyed enthusiasts noticed that the number keys '1' and '6' stayed glowing a solid green...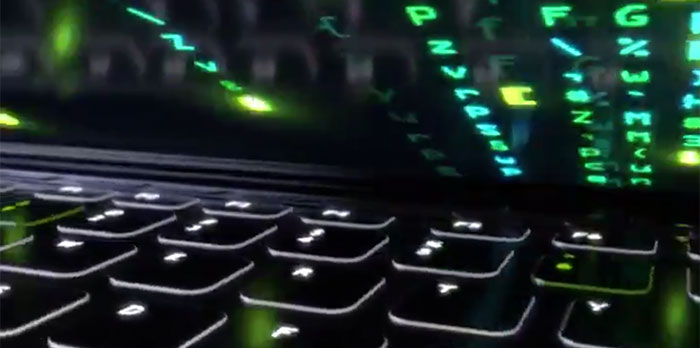 Video still capture
If you look around for further "They're coming" teaser videos you will find that Asus ROG, Lenovo Legion, and MSI Gaming have joined in by sharing the Nvidia Tweet. That makes them obvious launch partners and if you flick back through HEXUS news to 9th April you will see that some promo slides featuring an MSI GL63 laptop update, packing a GeForce GTX 1650, have already leaked.
I've looked around for other supporting Tweets and info from the likes of Acer, Gigabyte / Aorus, and Razer but to no avail. However, Acer has made a significant slip by actually listing the Predator Helios 300 gaming laptop with GeForce GTX 1660 Ti within its official product pages, as spotted by NoteBookCheck.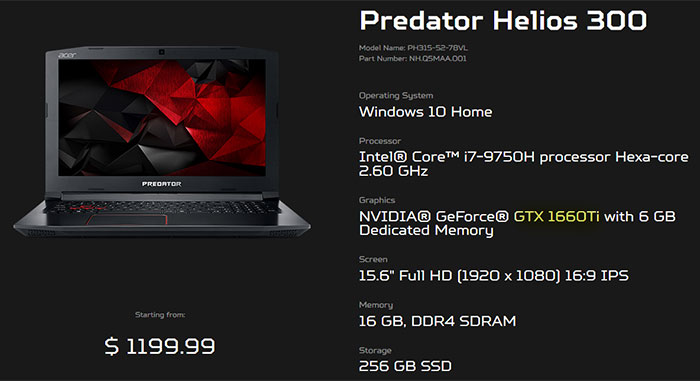 The product page for the Acer Predator Helios 300 is still live at the time of writing but I've screenshotted the spec overview section for posterity, highlighted the GTX 1660 Ti section, and embedded it above. It is worth mentioning that below the fold, the product page adds that the 'ComfyView' 15.6-inch screen has a refresh rate of 144Hz.
Acer launched the updated Predator Helios 300 'mid-range' gaming laptops at the recent next@acer event in New York. Unfortunately it was timed rather too early to reveal any GTX 16 series options for would-be purchasers. These Helois 300 laptops will arrive later this month in the US, and from June in Europe.