As teased earlier this month, pro overclocker Vince 'KingPin' Lucido has gained the top spot in the 3DMark Port Royal Hall of Fame for systems packing a single GPU. KingPin's 3DMark Port Royal score was 11744. An untweaked GeForce RTX 2080 Ti might typically score about 8000 in this benchmark, so the extreme OC adds an extra 50 per cent performance on top of the fastest consumer graphics card currently available.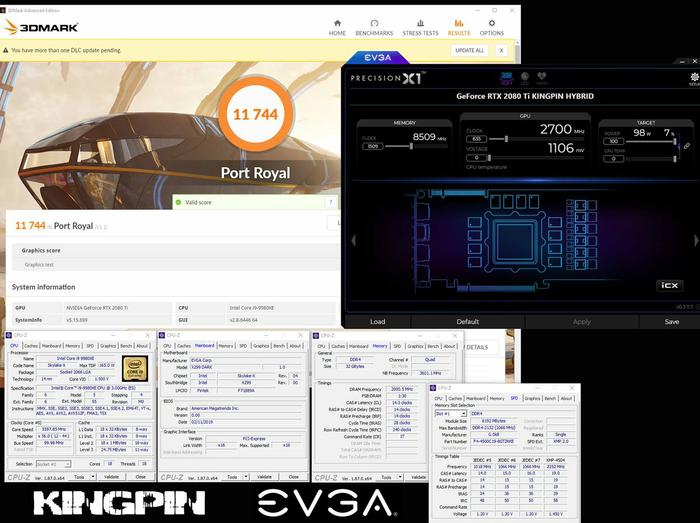 Click image to zoom-in.
Behind the headlining score is a powerful system pushed to its limits using extreme cooling techniques backed by LN2, plus plenty of PC components from the premium end of the market. For his single-GPU 3DMark Port Royal record, KingPin used the following hardware:
A custom-made EVGA GeForce RTX 2080 Ti KingPin Hybrid graphics card
An Intel Core i9-9980XE processor with 18-cores / 36 threads
An EVGA X299 DARK motherboard
32GB of G.Skill TridentZ DDR4 RAM.
The above listed GPU and CPU were both cooled byLN2. This enabled KingPin to run the RTX 2080 Ti at 2.7GHz, and its onboard memory at 8.5GHz. The Intel Core i9-9980XE ran at up to 5.6GHz too, thanks to the LN2. Last but not least the G.Skill system RAM ran at 4GHz.
If you look through the 3DMark Port Royal Hall of Fame charts at the new record holder, you will see that KingPin edged ahead of overclocker Rauf, who also used a GeForce RTX 2080 Ti, but using a model from Galax. In fact Rauf got his RTX 2080 Ti running faster than KingPin, but it seems like the benchmark responded favourably to the more powerful CPU used by KingPin (Rauf used an 8C/16T Core i9-9900K).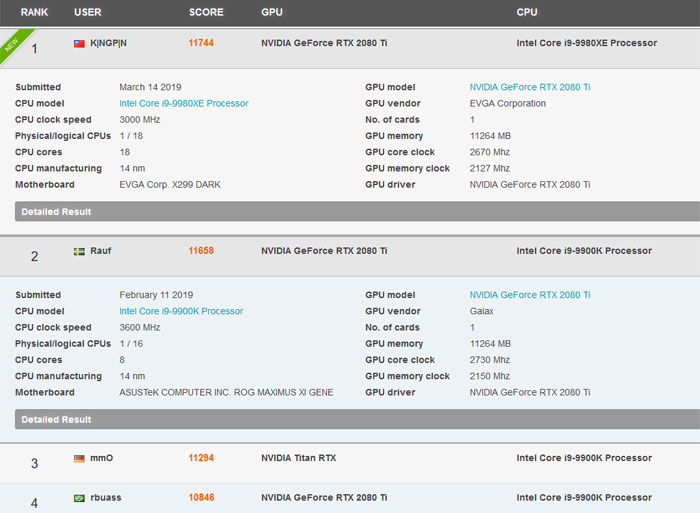 Both KingPin and Rauf are significantly ahead of the third placed RTX 2080 Ti entrant which scored 10846.