Independent third-party software quality assurance and testing experts, QA Consultants, has just published a report regarding PC graphics driver stability. The headlining determination from QA Consultants, following its extensive testing is that "AMD drivers are the most stable in the industry for gamers and workstation users alike". Before we go on, even though the lab insists it is fully independent, it is worth considering the fact that AMD commissioned this report.
For a bit of background about QA Consultants; it claims to be a leading North American company in the software quality assurance and testing services industry. It has delivered over 5,000 testing and consulting projects to sectors ranging from automotive, finance, healthcare, and telecommunications - and to both third party companies and (US and Canada) government bodies.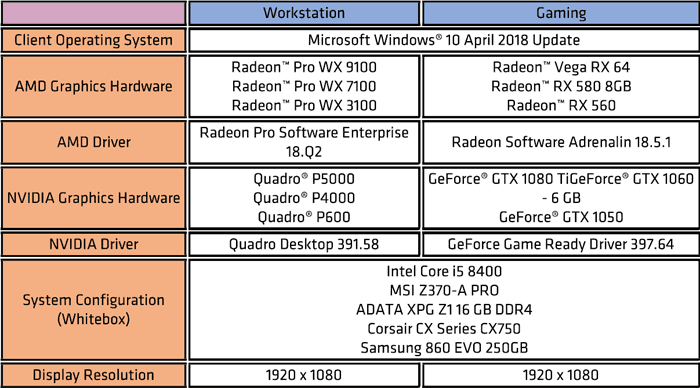 In its test QA Consultants used Microsoft's Windows Hardware Lab Kit (HLK) to conduct a 12-day head-to-head test comparing AMD and Nvidia graphics drivers. Technicians tested six of AMD's most popular graphics cards at the high, medium and budget price points, from both the Gaming and Workstation line-ups against competing Nvidia GPUs (3x GeForce, 3x Quadro). Specifically on the AMD roster were; the Radeon RX Vega 64, RX 580 and RX 560 for gaming, and the Radeon Pro WX 9100, WX 7100 and WX 3100 for workstations, using drivers Radeon Software Adrenalin 18.5.1 and Radeon Pro Software Enterprise 18.Q2, respectively. All the machines were running the same OS, Windows 10 April 2018 Update.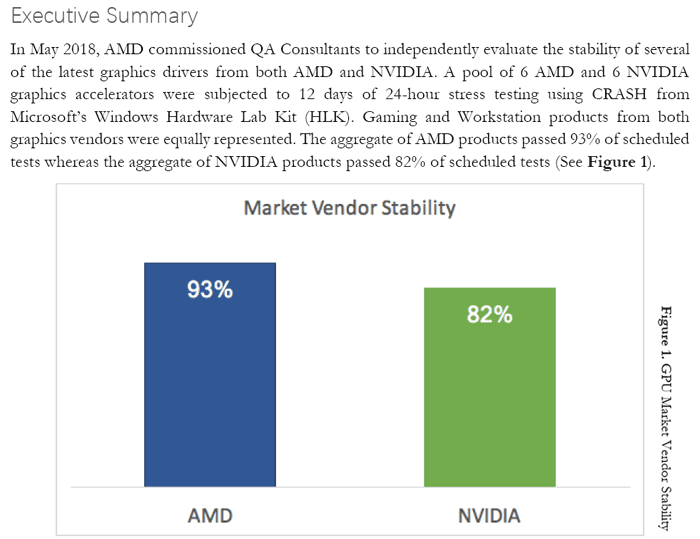 At the QA Consultants facility all the machines ran 12 days of 24-hour stress tests. The key findings were that the aggregate of AMD products passed 93 per cent of the scheduled tests, and the aggregate of Nvidia products passed 82 per cent of the scheduled tests.
You can look through the full details of the test in a PDF. The AMD Radeon gaming blog also shared its interpretation of the results.