MSI has unveiled a new series of graphics cards based upon AMD Radeon Polaris chipsets. There are only two SKUs in the new MECH 2 range, at least initially, the MSI Radeon RX 570/580 MECH 2 models. The cards are being launched as MSI claims to have formulated a new thermal design, allowing for higher core and memory speeds. Interestingly, these are the first major graphics card launches since Nvidia GPP was killed off.
MSI Radeon RX MECH series
I mentioned in the intro that the main attraction with the new MECH 2 series stems from the new cooling solution. With advanced aerodynamics, MSI's Airflow Control Technology leads more air directed onto the heat pipes of MECH series designs. Special deflectors on the heat sink enlarge the surface area, says MSI, which results in lower temperatures and better performance.
MSI leverages its award-winning TORX Fan 2.0 in the new cards - claimed to "generate 22 per cent more air pressure for better cooling performance while further reducing noise levels". The twin fans sit above a "huge heatsink" threaded with 6mm copper SuperSU heatpipes with flat under-sections for direct contact with a solid nickel-plated copper baseplate. Lastly, MSI has paid attention to the thermal compound between the massive cooling structure and GPU - it uses 'Premium Thermal Compound X'.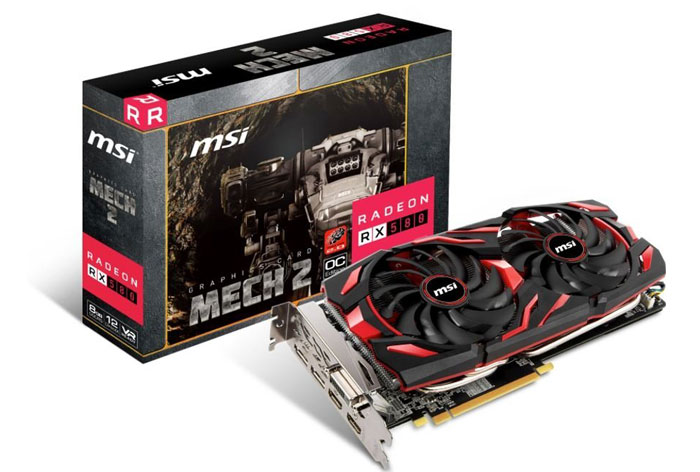 The MECH 2 series feature a red light glow through the cover plus an RGB LED dragon on the top bar. MSI has fitted a matte black backplate for structural strength, and on the custom PCB you will find MSI's own enhanced power design with Military Class 4 components. The MSI gaming app allows quick switching between OC, Gaming and Silent performance modes and One-click to VR settings. In the same app you can tweak all the usual visual settings and control the onboard LEDs.
MSI Radeon RX 580/570 MECH 2 models are expected to be in stores worldwide around the end of July 2018. Specific GPU/memory speeds and specs weren't shared by MSI in its news release.
Nvidia GPP in the bin
As mentioned in the intro, the MSI branding is clearly not impacted by Nvidia GPP shenanigans - a programme that was very recently abandoned by the Green Team. An interesting quote from Nvidia CEO Jen-Hsun Huang, taken from the financial results conference call, was shared by Hardware.Info earlier today, revealing what happened to the programme.
Toshiya Hari - Goldman Sachs & Co. LLC

Great. Thank you so much. Jensen, I had a question regarding your decision to pull the plug on your GeForce Partner Program. I think most of us read your blog from last Friday. I think it was, so we understand the basic background. But if you can describe what led to this decision and perhaps talk a little bit about the potential implications, if any, in terms of your ability to compete or gain share. That will be really helpful. Thank you so much.

Jen-Hsun Huang - Nvidia Corp.

Yeah. Thanks for your question, Toshiya. At the core, the program was about making sure that gamers who buy graphics cards knows exactly the GPU brand that's inside. And the reason for that is because, we want gamers to – the gaming experience of a graphics card depends so much on the GPU that is chosen.

And we felt that using one gaming brand, a graphics card brand, and interchanging the GPU underneath causes it to be less – causes it to be more opaque and less transparent for gamers to choose the GPU brand that they wanted. And most of the ecosystem loved it. And some of the people really disliked it.

And so instead of all that distraction, we're doing so well. And we're going to continue to help the gamers choose the graphics cards, like we always have, and things will sort out. And so we decided to pull the plug because the distraction was unnecessary and we have too much good stuff to go do.