Intel has delivered a new Graphics Driver for Windows which includes new PC gaming features. This latest driver, version 15.65.3.4944, is for Windows 10 64-bit and for systems equipped with a 6th Gen Core Processors or newer (including systems with 8th Gen Core Processors with Radeon RX Vega M Graphics). At this stage the headlining games optimisation feature is still in beta and limited to a handful of games.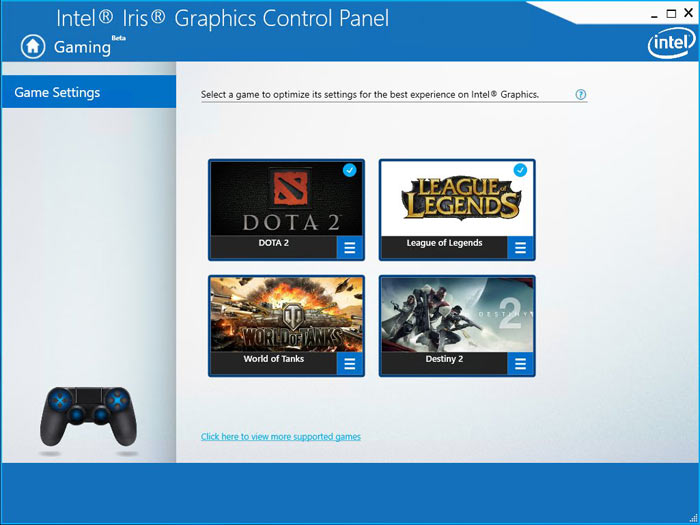 Above you can see a screen grab from the new driver's Game Settings, and optimisation, panel. There aren't a great amount of games that are supported by the auto-optimisation feature. The small but nicely formed list is as follows; Battlefield 1, Battlefield 4, American Truck Simulator, Call of Duty WWII, Destiny 2, DOTA 2, Grand Theft Auto V, League of Legends, Overwatch, and World of Tanks. Remember Intel still hosts a website where you can find recommended game settings for many more games - gameplay.intel.com.
Other highlights of the Intel Graphics Driver for Windows version 15.65.3.4944 are that it is the launch driver for both Age of Empires: Definitive Edition, and Final Fantasy XII: The Zodiac Age HD.
Those rocking Intel HD Graphics 620 or better are ready to play Fortnite: Battle Royale as well as They Are Billions, Lost Sphear, Age of Empires: Definitive Edition, Final Fantasy XII: The Zodiac Age HD, OK KO: Let's Play Heroes, Subnautica, Legrand Legacy: Tale of the Fatebounds, and Dragon Ball FighterZ. If you have a chip with Intel Iris Pro Graphics you can add Kingdom Come: Deliverance, Street Fighter V: Arcade Edition, and Metal Gear Survive, to that list.
Outside of gaming this latest Intel driver includes several other improvements, most notably:
Enhanced performance of graphics workloads for 6th Gen Core processors or higher with intelligent power management under maximum load.
Improved performance in video encoding for all codecs.
Optimized memory usage for HEVC encoding
Improved Vulkan memory usage
Power saving optimizations during video playback and UHD gaming is now available on all 7th Gen Core processors and higher.
You can download and read more about this driver on Intel's site.