Gigabyte has just made its Radeon RX Vega 64 Gaming OC 8G official. This is significant as it is Gigabyte's first custom design based around an AMD Radeon Vega GPU, rather than a reference design product. The Gigabyte Radeon RX Vega 64 Gaming OC 8G comes sporting a black and red Windforce 2X cooler design but sorry, no LED lighting. Some sites, such as Fudzilla, reckon Gigabyte will follow up shortly with a similar design RX Vega 56 graphics card.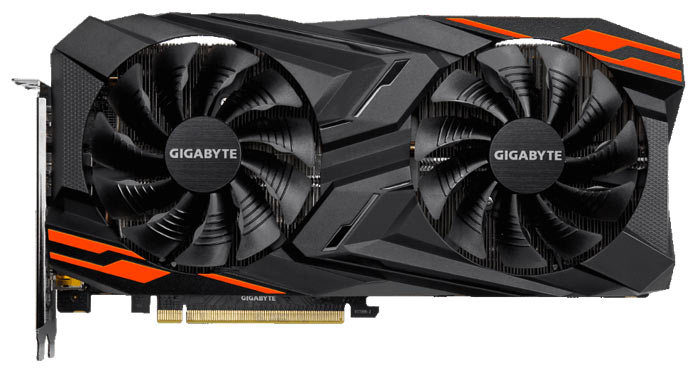 Strapping on Gigabyte's Windforce 2X cooler helps deliver a graphics card that is faster than reference fresh from the box, as would be expected from a Gigabyte 'OC' suffixed product release. If you have read previous HEXUS reviews of AMD Radeon RX Vega 64 based graphics cards you won't be surprised to hear that the 'OC' is rather modest. Check out the comparison table below to see how this model compares to the reference air and water cooled versions.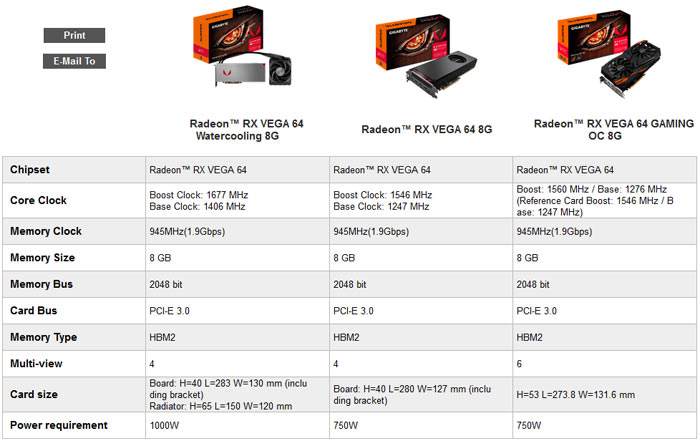 Beyond GPU core clock speeds, other things of note highlighted in the comparison table above are; that the Gigabyte card is capable of 6x multiview configurations, and the Gigabyte card is 13mm taller than reference designs. The multiview capability is enhanced by the provision of HDMI x3/ DisplayPort x3 connectors, and the Windforce X2 is so tall because of its twin 100mm fans and radiator / heat pipe construction.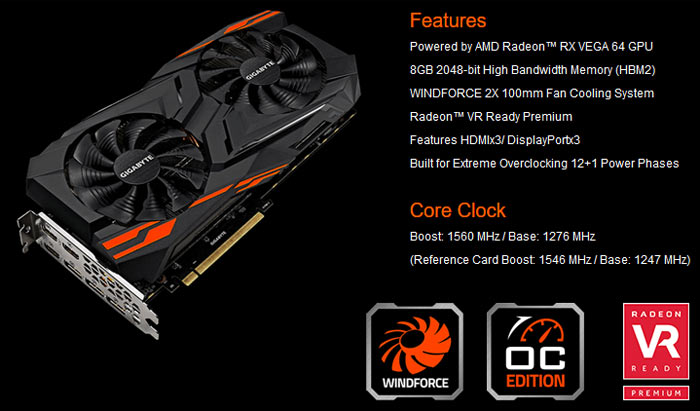 On the topic of the cooler, Gigabyte has gone with specially designed fan angular and unequal fan blades, and the fans spin in opposite directions. These '3D Active fans' are semi passive so will be still / silent when the system is running on light tasks or is idle. Under the fans is a large finned aluminium structure laced through with composite copper heatpipes which offer direct GPU cooling. Round the back Gigabyte has installed a copper plate with extra heatpipe and a back plate to provide a "well-rounded thermal solution".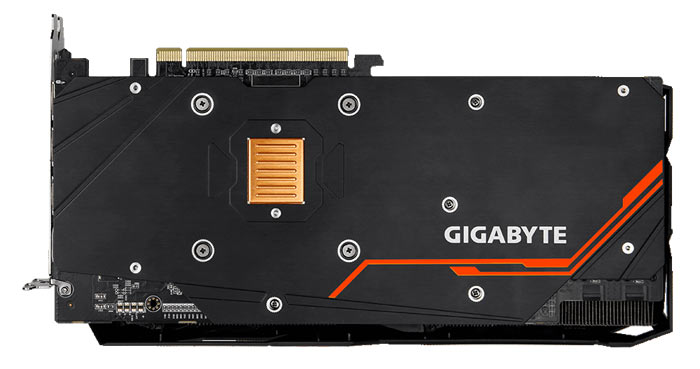 Overclockers will appreciate the 12+1 power phases on the card for lower temperature and stable voltage output, reckons Gigabyte. Elsewhere in the card construction Gigabyte has, as usual, leveraged "ultra durable materials," and the aforementioned backplate helps with overall durability too.
Gigabyte has yet to provide us with information about pricing and availability.