AMD has released a new graphics driver just about in time for the release of Mass Effect: Andromeda. Announced via the Radeon Twitter account yesterday evening, the new Radeon Software Crimson ReLive Edition 17.3.3. driver helps AMD multi-GPU users prepare for one of the biggest releases of 2017.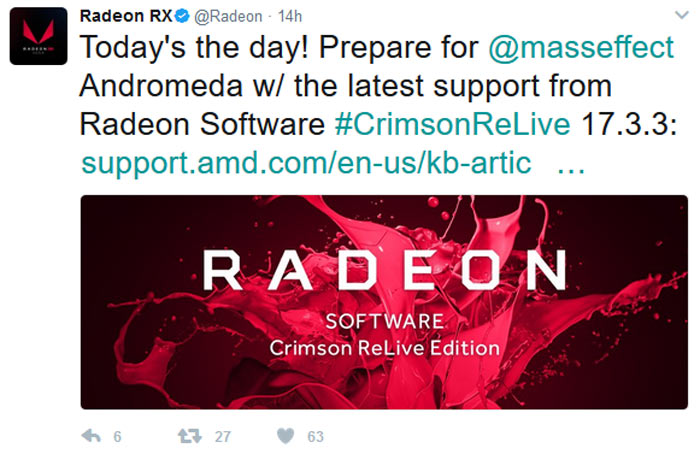 The previous 17.3.2 driver already provided support for Andromeda. Looking through the release notes the appeal of this newest driver seems rather narrow, singling out Mass Effect: Andromeda players with AMD multi-GPU setups as the main beneficiaries.
I've reproduced the whole of the new driver highlights section below:
New Multi GPU profile:
Mass Effect: Andromeda (DirectX 11)
Multi GPU can be enabled from command line using
"-RenderDevice.AmdCrossfireEnable 1"
Fixed Issues:
Texture flickering may be observed in Mass Effect: Andromeda in Multi GPU system configurations.
Other than the above AMD lists the same known issues as in the previous driver release, namely multi-GPU wrinkles with Tom Clancy's Ghost Recon Wildlands, and a few other multi-GPU and FreeSync glitches.
Mass Effect: Andromeda PC performance analysis
For those really interested in Mass Effect's latest outing and the performance available to PC gamers I spotted an interesting analysis by PCGamer. The site checked through the Frostbite 3 engine (DX11) powered game using a decent selection of modern AMD and Nvidia graphics cards.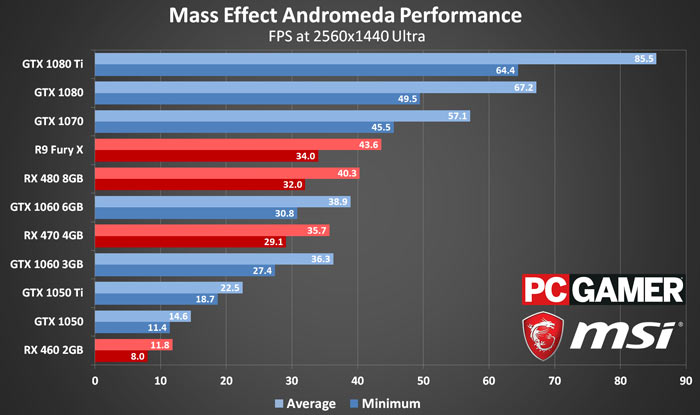 Tests were run in resolutions starting from 1080p medium detail, through to 1440p, and up to 4K ultra settings. It is noted that the AMD Radeon 17.3.2 driver helped by 10-15 percent on the RX 400 series. PCGamer didn't use the latest 17.3.3 but the benefits delivered by this new driver look limited to multi-GPU. Variations in CPU power and the impact on Andromeda gaming performance were also looked into.