We have seen a few official teasers for third party cooler design GeForce GTX 1080 Ti graphics cards from various manufacturers. However, the details have been rather vague; the teasers usually just provide a picture and a flowery paragraph or two about the unique cooler design. Breaking the tech-spec silence regarding the third party GeForce GTX 1080 Ti designs, VideoCardz has published a press deck which is said to have been prepared for the Asus Strix GeForce GTX 1080 Ti launch.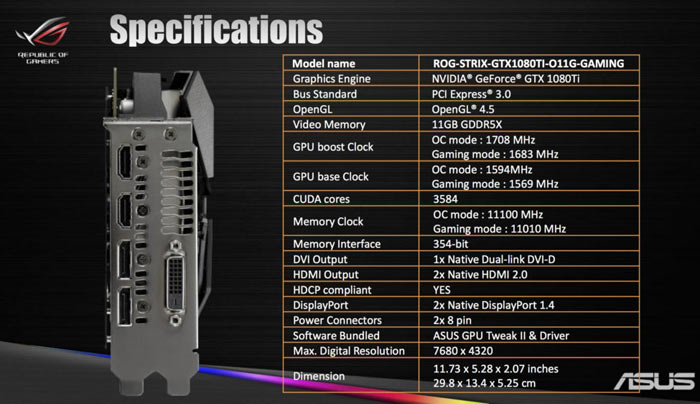 So what kind of benefits can you expect from an Asus Strix over a Founders Edition GTX 1080 Ti? In clock speed terms, in the fastest OC Mode, the Strix GPU has a base clock of 1594MHz (+7.7 per cent) and will boost up to 1708MHz (+8.0 per cent). Furthermore, its memory clock runs at 11.1GHz in this OC mode. Gaming mode is a shade slower with the GPU running at 1569MHz base, 1683MHz boost, and a standard 11GHz (GDDR5X-effective) memory speed.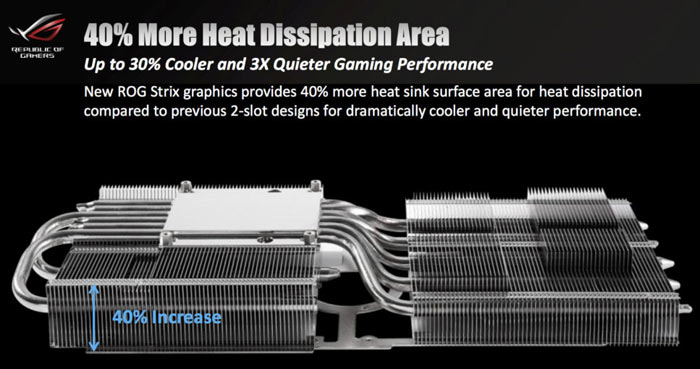 Perhaps greater benefits come from the cooling efficiency and quietness. Asus claims that its DirectCU III cooler is its best ever with 40 per cent greater heat sink surface area than its previous 2-slot designs. A further interesting refinement is Asus MaxContact Technology where the direct contact copper heatspreader surface is smoother than ever thanks to precision machining - smoother surface means "up to 2X more contact with the GPU," claims Asus.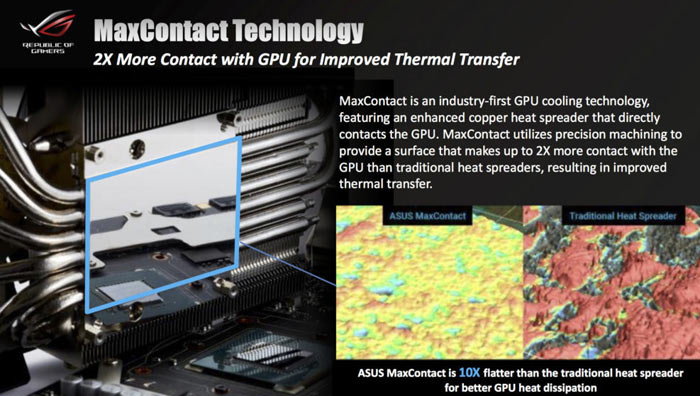 For many, a quietly efficient but powerful computer is highly desirable, and again Asus appeals with the Strix cooler, claimed to max out at about 29dB under duress, compared to the 34dB of the Founders Edition under the same load.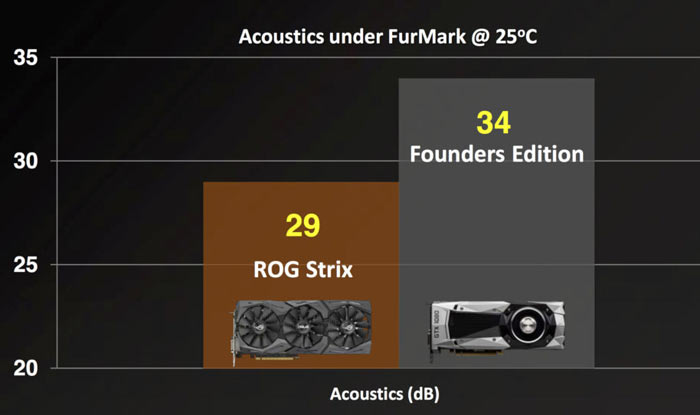 Third party cooler design GeForce GTX 1080 Ti graphics cards, like this Strix model from Asus, will be launched in early April, according to the source report.
All pictures via VideoCardz.