Imagination Technologies (IMG) has launched a brand new GPU aimed at the mobiles and convertibles markets, and the new class of emerging applications that have risen to prominence over recent years.

The Power VR Furian is the company's first major GPU architecture revision since 2010's Rogue and Imagination claims a "massive step up in performance," as reproduced below:
"Compared to Series7XT Plus GPUs in the same process technology and at same clock frequency for cores with similar silicon area budget, Furian achieves:
35% GFLOPS density improvement for improved compute and gaming performance efficiency
80% fillrate density improvement for improved UI and casual gaming performance efficiency
70-90% gaming density improvement – real world application results even better than the sum of the parts".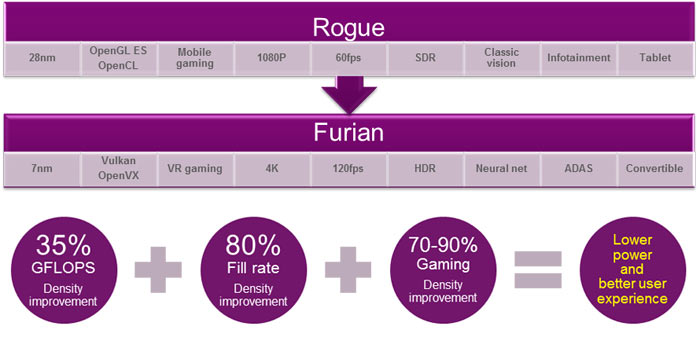 Furian is designed with some new challenges in mind. As you can see in the table above, where previous GPUs targeted mobile gaming and infotainment titles in 1080p using OpenGL, the new Furian GPUs are looking towards VR gaming in 4K on Vulkan at much faster refresh rates. Furthermore, Imagination's Furian is targeting Augmented Reality (AR), Advanced Driver Assistance Systems (ADAS), machine intelligence, and other compute on GPU workloads.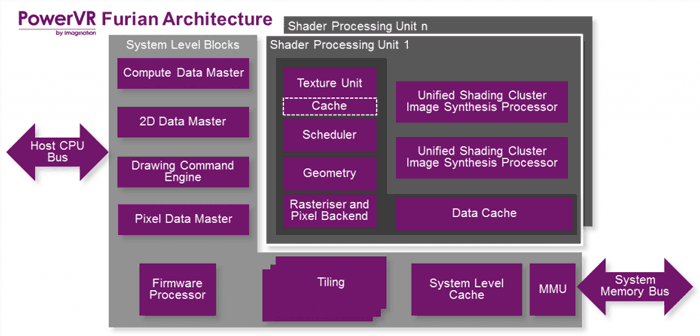 Imagination provides some background to the architectural changes on the Furian product pages. In summary, it explains that some of the most significant changes have been made in the ALU with the move from an x16 to x32 pipeline doubling performance in some cases. We also learn that Furian is efficiently laid out to ensure shorter path lengths with less congestion between chip sub-components.
Expect to see the first SoCs with Furian GPU (Series8XT) cores onboard announced from summer onwards.