After dragging the XG Station 2 eGPU box around various trade shows for nearly a year Asus has now finalised its specifications and provided a release window for this device. HEXUS first reported on, and filmed the ROG XG Station 2 in action, back at CES 2016. Later in the year, at Computex, it was changed to sport a Thunderbolt 3 interface. Now, in its latest and final spec before shipping to end users it will employ both a Thunderbolt 3 interface plus an extra USB Type-B connection for increased bandwidth.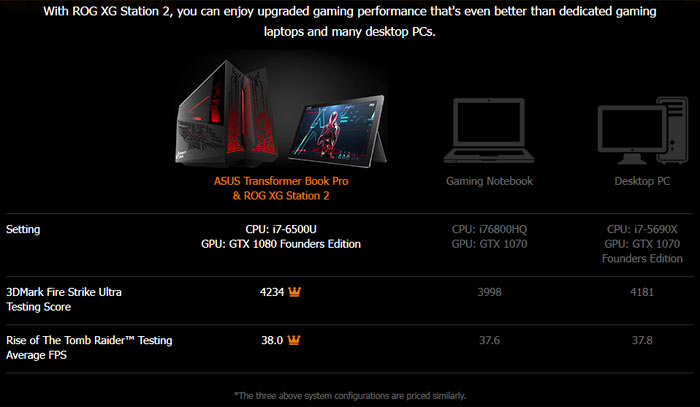 Regular readers will be aware of the growing number of eGPU chassis available. They provide a niche solution for folk who like to own an ultraportable laptop but want to use the same laptop PC as a gaming machine when they get home. These discrete GPU packing devices typically connect via Thunderbolt 3, and then to a nice large monitor to provide expansive modern gaming goodness. Graphics card choices are usually as diverse as what you might choose to fit in your PC desktop case.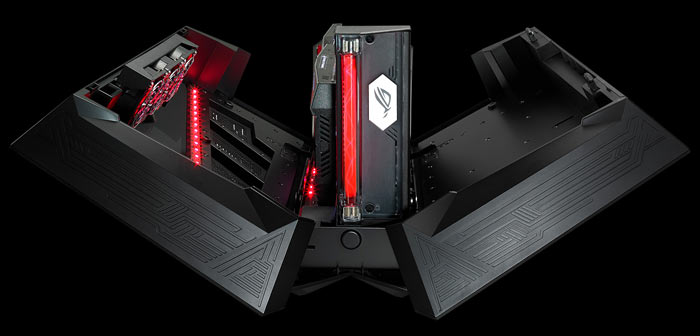 This Asus ROG XG Station 2 includes its own 500W 80 Plus Gold certified PSU which is enough to power your GPU and send power back to your laptop for charging. Asus says it can be fitted with 2.5 slot-wide graphics cards such as "the current king of the hill - the ROG Strix GTX 1080, and also supports the latest offerings from AMD, such as the ROG Strix RX 480".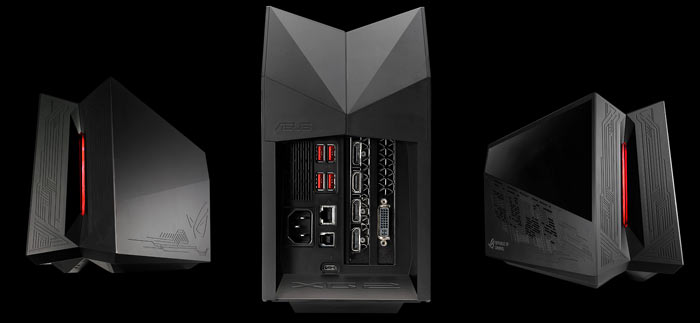 In its performance blurb Asus claims that due to the slight overhead, due to encoding and decoding when connecting only via Thunderbolt 3, its "XG Station 2 allows you to connect an additional USB Type-B cable to help compensate and push the performance further". With both connections employed you should get approx 90 per cent of the performance the card could muster installed inside a desktop PC, says Asus.
A typical modern ultraportable laptop often lacks expansion ports so the XG Station 2 also makes a nifty dock by providing four USB 3.0 ports and a Gigabit Ethernet port, as well as lots of monitor connection options.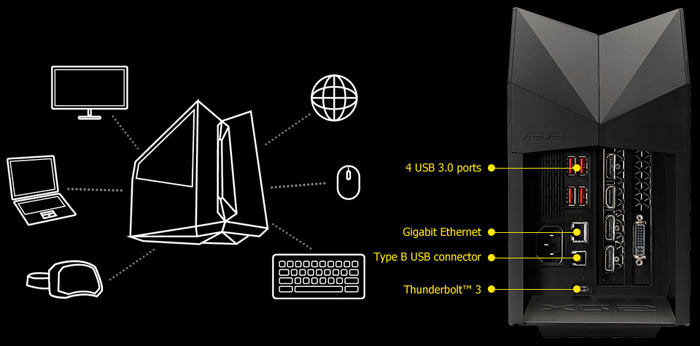 LED lighting is present in the form of an all new plasma tube at the centre front of the XG Station 2. Of course it is compatible with the ASUS Aura RGB lighting family and Aura Sync system, so it can glow and throb in harmony with the rest of your Asus components.
Compatible Asus laptop models include several of the firm's gaming laptops, the Transformer Book series and also some modern ZenBook models (TBC). The Asus ROG XG Station 2 becomes available worldwide early next year. Pricing for the device hasn't yet been indicated.