AMD will begin to roll out its Zen processors aimed at high end desktops (HEDT) on 17th January, says a new rumour from China. According to a post on Baidu, citing a motherboard manufacturer, the first chips released will be high-end AMD Zen chips priced between US$200-300, and be part of the AMD Zen SR7 range. It is thought that these processors will be announced at the CES 2017 show a week earlier. AMD has previously officially confirmed that its Zen HEDT chips will be the first to hit the market.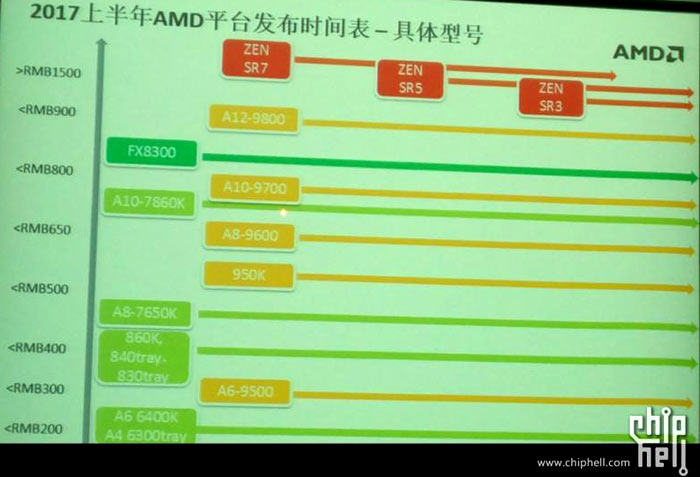 AMD Zen processors are expected to be launched in three 'SR' (short for Summit Ridge') ranges; SR7, SR5 and SR3. AMD's top HEDT processors, the SR7 range, will be launched first. The Chinese source found information about the launch from AMD partner MAXSUN, a motherboard maker. Most SR7 SKUs will be priced around the 1500-2000 Yuan range ($250-$300) according to MAXSUN (and the recent ChipHell image, above) but special 95W OC variants from the SR7 stable will cost as much as 3000 Yuan (~$500 US).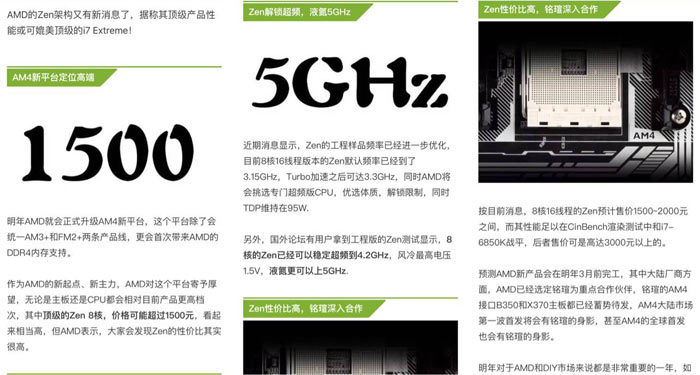 The best AMD Zen SR7 chips will be configured as 8C/16T parts and are said by MAXSUN to be competitive with the likes of Intel's $600 Core i7-6850K processor with 6C/12T in Cinebench. AMD previously demonstrated a Zen engineering sample with comparable performance to an Intel Broadwell-E 8C/16T processor, in Blender.

Official AMD Zen slide from August presentation
MAXSUN mentions an improvement on the 3GHz speeds we saw with Zen engineering samples. The first chips will offer between 3.15 to 3.3GHz base and 3.5GHz boost frequencies with conventional OC speeds reaching 4.2GHz, or up to 5GHz on LN2.
After the SR7 HEDT processor range launch in January, MAXSUN says that further releases relevant to its customers (it is making X370 and B350 chipset based motherboards) will come in March. Perhaps that's the time when we will see Zen SR5 and SR3 ranges launched.
Please remember that much of the above Zen release information is not from an official source. Take it with a pinch of salt and look forward to January.