Intel brought overclocking to the cheaper seats, not too long ago, with its Haswell refresh Pentium Anniversary Edition G3258. HEXUS did a thorough review of this budget OC-capable chip and gave it a coveted 'Editor's Choice' award due to its strong value, performance, and overclockability. That 2C/2T chip still sells but is getting rather long in the tooth...
Now rumours / leaks suggest that Intel is preparing a new affordable OC champ within the slightly higher end (from a Pentium) Core i3 Kaby Lake desktop range. This story features on several sites today with not one providing sources but WCCF Tech appears to have published the earliest and has a convincing looking Intel inventory screengrab (see below). So let's gather together all the details so far spilled about the next gen overclockable i3.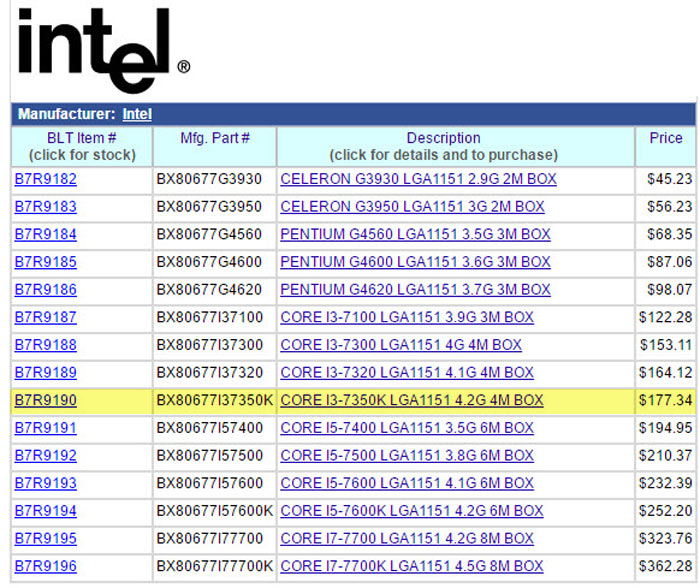 The Intel Core i3-7350K will run with a maximum boost frequency of 4.2GHz out of the box. This unlocked multiplier 'K' chip will be a dual-core part with four threads (2C/4T). An L3 cache of 4MB will help speed processing along. The TDP of the i3-7350K will be 91W, says one report, matching the 'K' models from both Kaby Lake i5 and i7 desktop ranges.
Crucial to the Intel Core i3-7350K's popularity will be its pricing. Yes, it looks set to be the most expensive new Core i3 but it's still a significant chunk cheaper than a multiplier locked 4C/4T Core i5 and allows enthusiasts to indulge in fully flexible OC shenanigans. The i3-7350K's price is expected to be below $180.
Another interesting budget-minded member of the new Kaby Lake range, if far-east sourced leaks last month were correct, will be the first Pentium to feature Hyperthreading. The Intel Pentium G4620 reputedly features a 3.7GHz clock speed and 2C/4T.
Are these lower-end unlocked and hyperthreading enhanced parts Intel's foot soldiers to combat AMD Zen in the popular sub-$200 and sub-$100 markets next year?