Over 15 billion ARM-based chips were shipped in 2015 alone, implemented from sensors to servers, and the SoftBank-owned company believes that this increasing shipment trend is set fair to continue.
The reason it can be bullish is that as a global leader in designing processors based on low power and high efficiency, ARM is at the vanguard of the Internet of Things (IoT) revolution.
IoT loosely refers to the ever-escalating number of internet-connected devices, with the number now in the billions, so it is incumbent on an IP designer such as ARM to have a coherent, easy-to-implement strategy for IoT moving forwards.
This is exactly what ARM is doing. Debuting to coincide with the annual TechCon conference in Santa Clara, California, ARM is unveiling its 2016 IoT Technologies Platform.
The purpose of this platform is to enable IoT devices to be deployed easily and quickly, so let's take a closer look.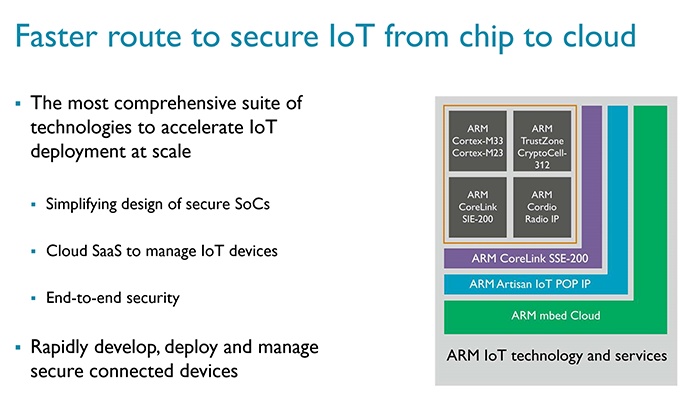 The all-new technology represents a collection of hardware and software. The focus is on enabling companies to produce highly efficient and, just as crucially, secure processors.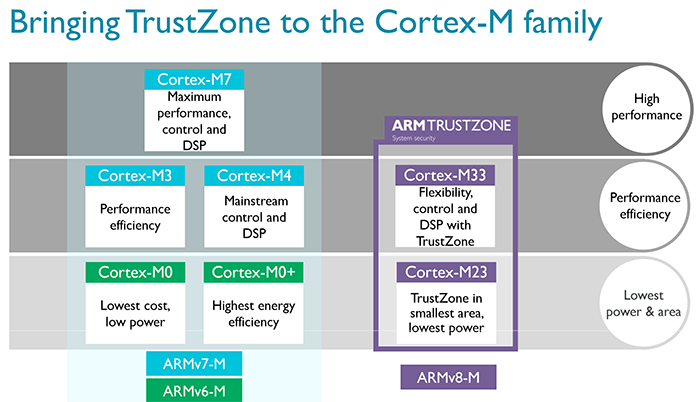 As a precursor to a full IoT-specific launch, ARM announced the ARMv8-M architecture in November 2015. This latest architecture, primed for Cortex M-series processors, added TrustZone technology to 'future' chips by having security extensions baked into the silicon itself, thus differentiating them from incumbent Cortex M-series offerings.
Similar to the TrustZone already present in the performance Cortex A-series, this new variant, optimised for ultra-efficient chips, offers affordable, hardware-level security that is compatible with its bigger brother.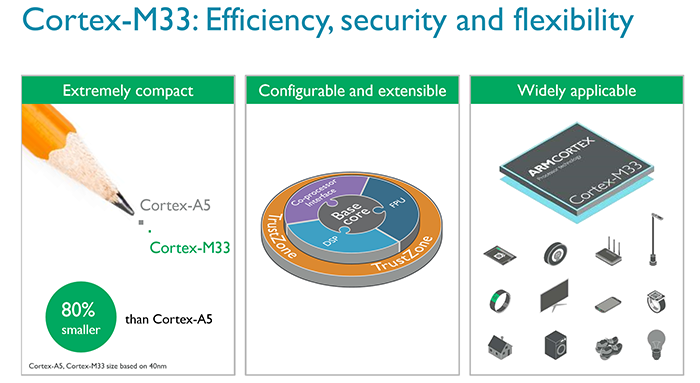 Given that new Cortex-M-series hardware is needed to be compatible with the secure IoT platform ARM envisages, the company is today releasing the Cortex-M33 and Cortex-M23.
In common with the standard Cortex-M3 that has been widely available and implemented for a while, the Cortex-M33 is designed with ultra-efficient power consumption and tiny footprint in mind. Significantly smaller than the Cortex-A5, this 32-bit microprocessor is expected to be used in such eclectic scenarios as automotive control to smart lighting.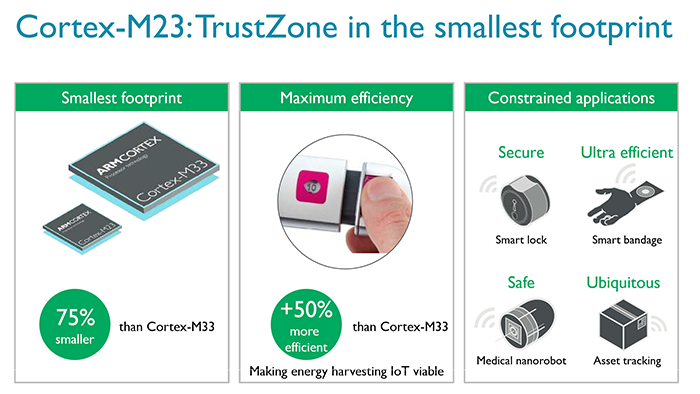 For IoT designers looking for even more efficiency and striking a better balance between cost, die size and power, the also-new Cortex-M23, also equipped with TrustZone, is expected to be the volume mover, applicable wherever a dumb device needs to be made smart and secure.
Having a secure processor and overarching architecture is only one part of the puzzle, however. Looking back to the first slide, ARM is ensuring that the full system-on-chip (SoC) solution is secure by offering a new, secure interconnect, CoreLink SIE-200 from the new TrustZone-enabled processors to the rest of the system. And for those who require end-to-end security with baked-in cryptography support, ARM is now offering the CryptoCell-312, too, which offers up to 10x the performance when compared with running the same hashing via software.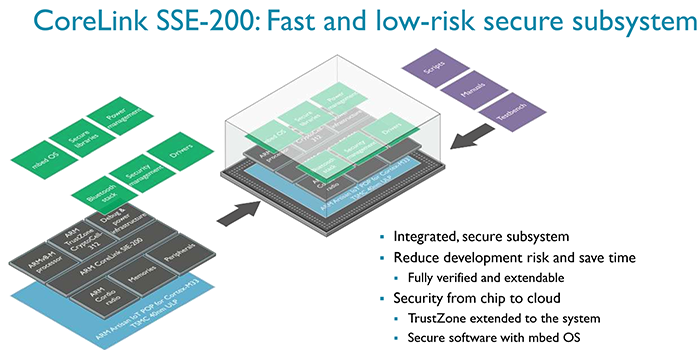 Putting it all together, including support from the secure mbed operating system, ARM envisages a smart, secure subsystem for the next slew of IoT devices.
Working from IoT chip to cloud through secure, modern processors and platforms, ARM expects this year's IoT-centric product portfolio to become the backbone of the next few billion devices. The key takeaway for us is that upcoming chips need to be smart, secure and efficient.