AMD last refreshed its Pro series of computer processors back in September 2015, with its enhanced chips based upon Carrizo and Godavari. Today AMD announced its new 7th generation Pro APUs, also known as 'Bristol Ridge Pro' processors. As with previous AMD Pro chips, the new generation brings renewed performance and feature gains alongside enterprise-class reliability and security. AMD hopes to continue the success of the Pro series as since mid-2014 it has enjoyed a 45 per cent uplift in shipments of this range.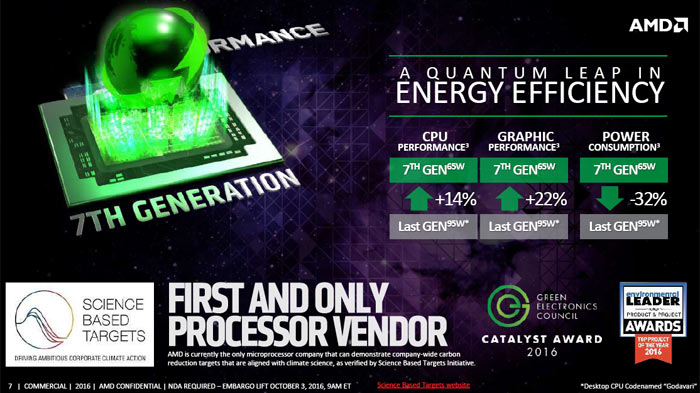 For the first time AMD will be offering both 65W and 35W APUs as part of the Pro APU range. The 35W parts will be easily recognisable with their 'E' suffix and are meant for the growingly popular ultra-small form factor PC systems. These lower power consumption processors still offer plenty of performance, according to AMD, with clear leadership especially with regards to the integrated GPU.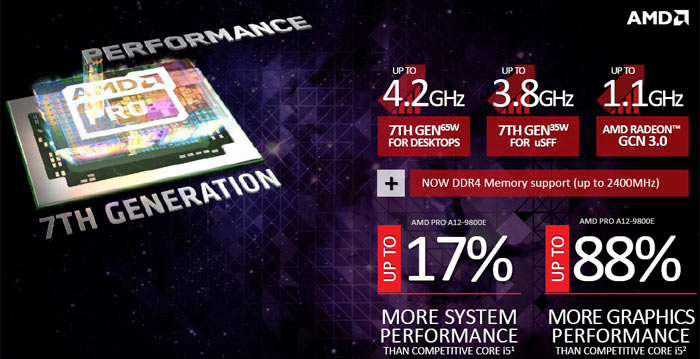 AMD chose to make a direct comparison between its Pro A12-9800E and the competitive Intel Core i5-6500T (with Intel HD Graphics 530) in real-world shipping business systems. In PCMark 8 v2 Home the AMD system scored 3461, while the Intel system scored 2965. That's a 17 per cent improvement on AMD's side. However, I noticed that the comparison AMD system had an SSD while the Intel system used a 5,400rpm HDD. In the perhaps fairer graphics comparison between the same machines AMD's R7 Graphics trounced the Intel HD Graphics 530 in 3DMark 11 Performance tests scoring P3050 against P1622. That's 88 per cent better.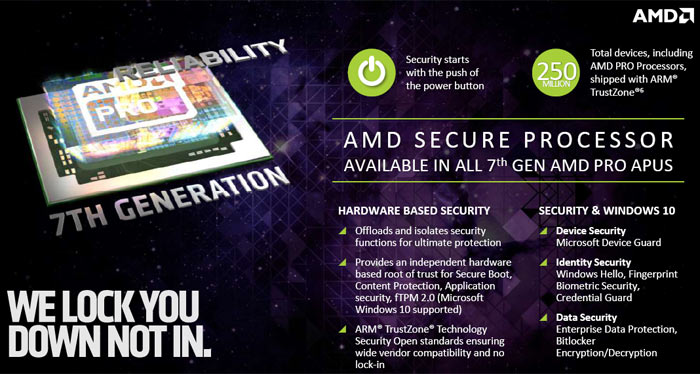 Important to the appeal of AMD's 7th generation Pro APUs are the other core improvements that were present in the non-Pro 'Bristol Ridge' AM4 socket A-Series products which include; greater power efficiency, support for DDR4 memory, PCIe Gen 3, USB 3.1 Gen 2 Type-C, NVMe, SATA Express, and enhanced graphics. Alongside these improvements AMD delivers the 'Pro' enterprise-class features of AMD Secure processor for hardware-based security, open-standard DASH manageability, AMD-V virtualisation, plus commercial-grade quality assurance and warranties.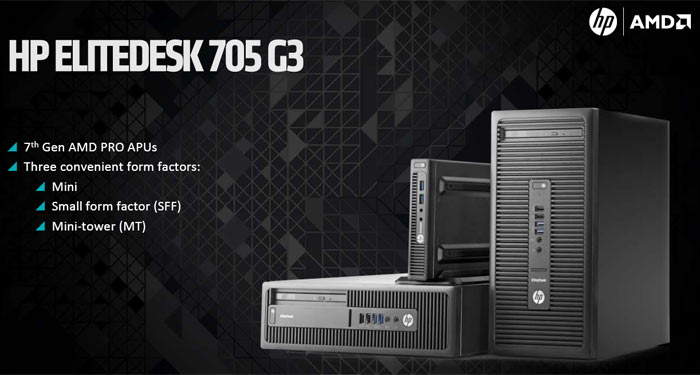 The first products we know of packing AMD 7th generation Pro APUs are the HP Elitedesk 705 G3 range, as pictured above. AMD told us that more systems were being readied by partners for launch in the coming days/weeks. Below you can find a chart showing the SKUs announced today.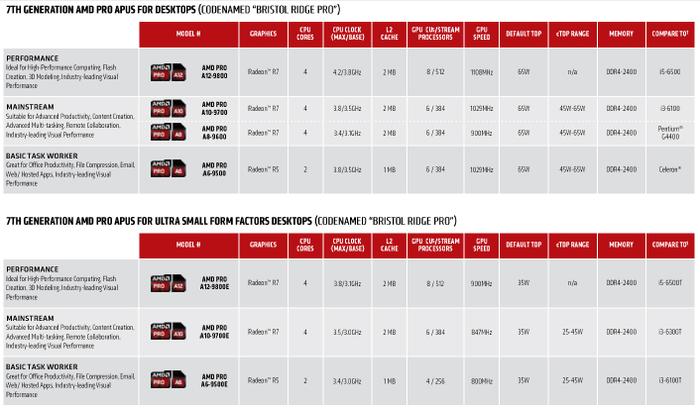 Click to zoom AMD Pro APU product range chart