AMD held a special event about a week ago, giving the world a first glance at Zen, and a brief over view of the architecture. The Path to Zen included an overview and an interesting performance comparison between one of the first 8-core, 16-thread Summit Ridge desktop processors and a similarly configured modern (launched in June 2016) Intel Broadwell-E chip. The main take away from the presentation was that AMD is back with a competitive, scalable CPU architecture and it would "return to growth in PCs" in the next 12 months. At The Path to Zen there were quite a lot of slides presented; now the full deck has been made public by AMD.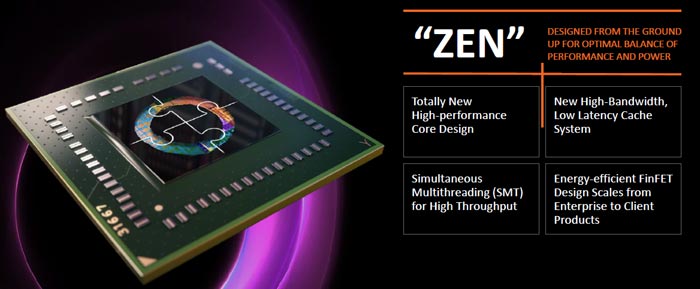 At the Hot Chips symposium yesterday, AMD's Mike Clark talked attendees through the features of the Zen architecture using these same slides. Clark indicated that the top end of the Zen power envelope had been pushed down to under 100 watts. The power optimisation means that the Zen architecture can be used for products from <25 watts all the way up to about 100 watts. AMD's product range with thus be simpler.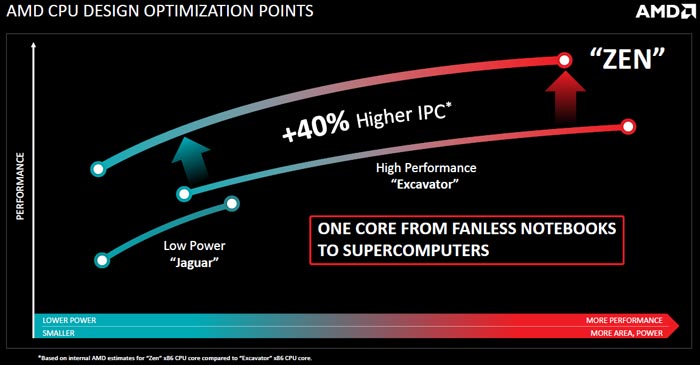 The heralded "40 per cent generational improvement in instructions per clock" comes from a trio of contributory factors according to AMD. As you can see in the slide below, AMD has implemented a better core engine, a better cache system, and a lower power design. It is also not to be forgotten that AMD is moving from a 28nm to a 14nm LPP fabrication process at GlobalFoundries.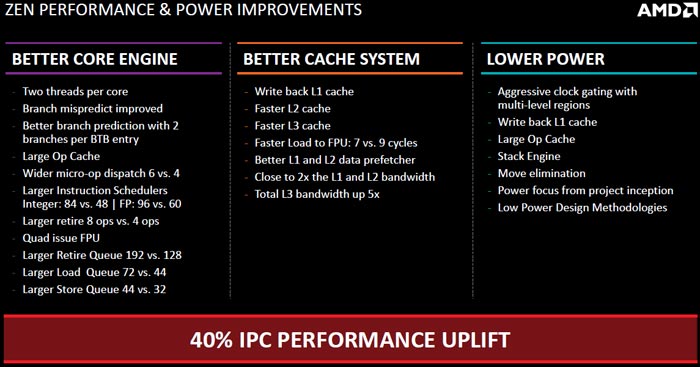 AMD's 'clean-sheet' Zen design borrows little from the firm's current range of processors. In the Zen CPU-Complex four cores share an 8MB L3 cache but are truly independent. Most of the CPU caches are said to be faster with the L3 bandwidth five times greater than in current AMD CPUs.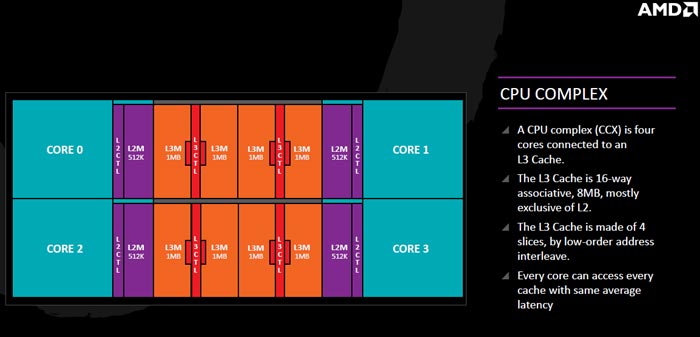 Zen uses SMT (simultaneous multi-threading) similar to current Intel processors. The slide below shows how the SMT system works in a block diagram.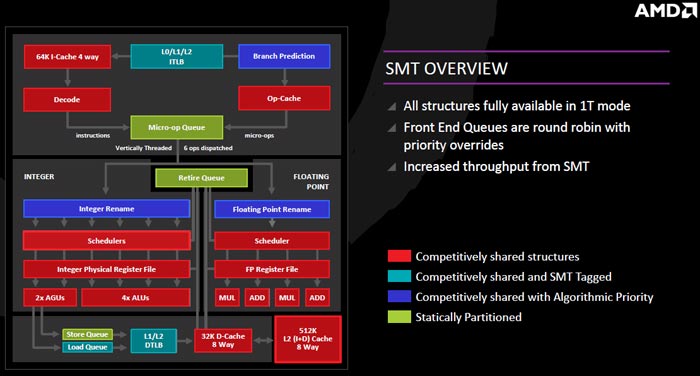 The new Zen architecture looks competitive on paper and the single AMD comparative rendering benchmark win, against a current high-end Intel processor, is encouraging. However, it looks like it will be several months before we get the first AMD Zen chip(s) in the HEXUS labs.