AMD held a special event last night in San Francisco to provide further architectural details and comparative performance demonstration of its Zen processors. Probably the highlight of 'The Path to Zen' event was the first-ever official Zen performance demo featuring AMD's Summit Ridge vs. the Intel Broadwell-E. In other segments of the presentation we learned about and saw a demo of 'Naples', a Zen-based 32 core, 64 thread server product.

Kicking off the event, Dr. Lisa Su, president and CEO of AMD, said that "The performance and efficiency of our Zen core showcases AMD at its best." She went on to detail how the company has spent the last four years building up to the Zen launch. The 'clean sheet' design of the processor has enabled AMD to increase the performance, throughput, and efficiency of these new CPUs and deliver "a 40 per cent generational improvement in instructions per clock".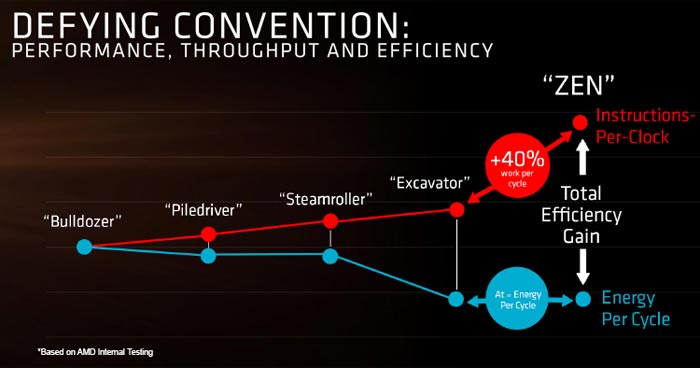 Mark Papermaster, senior vice president and chief technology officer at AMD, joined in the presentation about the background to Zen, claiming that the Zen is a once in a lifetime project with a huge potential to impact the future. It is envisioned that Zen-based CPUs will be present in systems as diverse as fanless 2-in-1s, embedded systems, high-performance computing, and the datacentre.
Zen-based Summit Ridge desktop chips are expected to be the first Zen parts to launch. These chips will use the AMD AM4 socket, compatible with 7th Generation AMD A-Series desktop processors – previously codenamed Bristol Ridge. The AM4 platform provides dedicated PCIe lanes for cutting-edge USB, graphics, data and other I/O. Other key technologies include; DDR4 memory, PCIe Gen 3, USB 3.1 Gen2 10Gbps, NVMe, and SATA Express.

Desktop availability in volume is expected to be in the first quarter of 2017 but there might be some limited volumes of Zen chips shipped before New Year. A laptop processor combining Zen cores and integrated graphics will be introduced next year.

Comparative tests
We don't have the test numbers to share with you today, just the testing methodology and overall result. For its comparative performance demo AMD ran an 8-core, 16-thread Summit Ridge desktop processor (engineering sample) against a "similarly configured 8-core, 16-thread Intel Core i7 Broadwell-E processor" launched in June. To provide a level playing field, both system CPUs ran at 3.0GHz. The two machines ran multi-threaded Blender rendering software to complete a specific task. The result? AMD's Zen-based processor outperformed Intel's chip. No chart or detail about the margin of the win has been shared by AMD at the time of writing.
In the demo of 'Naples', this Zen-based 32 core, 64 thread chip was shown off running in a dual processor server running the Windows Server operating system. Naples is scheduled to launch in Q2 of 2017.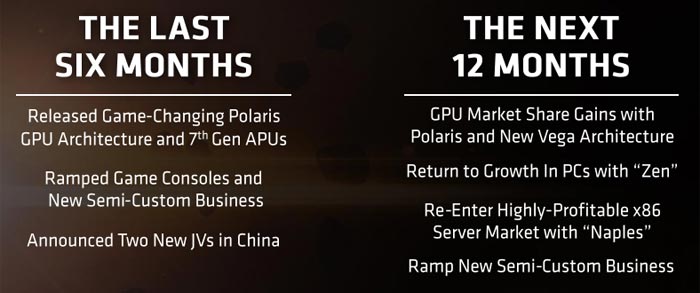 Further information about the Zen architecture will be provided next week at Hot Chips 28.