Intel showed off a few slides and discussed the performance of the upcoming Apollo Lake SoCs last week at Computex. AnandTech forum member Paul Jackson was at the presentation and took some illuminating snaps (via Liliputing) of the slides, reproduced here today. Overall it seems that Apollo Lake will provide a decent (30 per cent) uplift in performance compared to previous generation Cherrytrail/Braswell parts.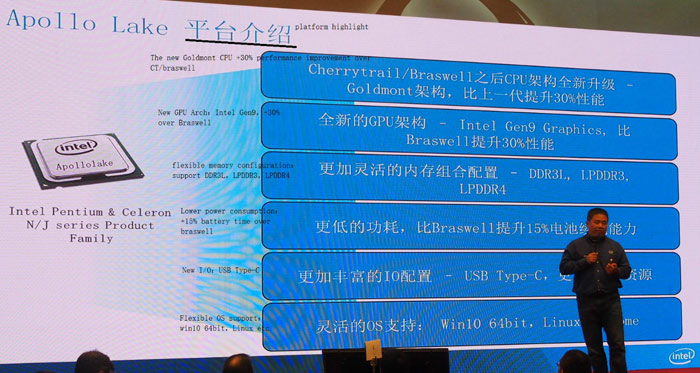 Apollo Lake SoCs will feature Intel's new Goldmont cores. Intel has previously indicated that end users would enjoy both better performance and efficiency but this is the first time it has put numbers behind those claims. As you can see from the Chinese language slide above, with machine translation superimposed, the new Apollo Lake SoCs provide:
A 30 per cent improvement in CPU performance compared to Cherrytrail / Braswell parts
A new GPU architecture (Intel Gen9) delivering 30 per cent better performance than Braswell
Flexible support for RAM, DDR3L, LPDDR3, and LPDDR4 memory are options for manufacturers
Better battery life, with a claimed 15 per cent longer life compared to Braswell
In addition to the above, the new SoC brings with it new I/O options such as USB Type-C, contributes to a cheaper BOM for manufacturers, and provides flexible OS support like previous gen SoCs. Remember these figures from Intel will be showing the new processors in the best light possible, so the touted percentage point advantages might not be as significant in the real world.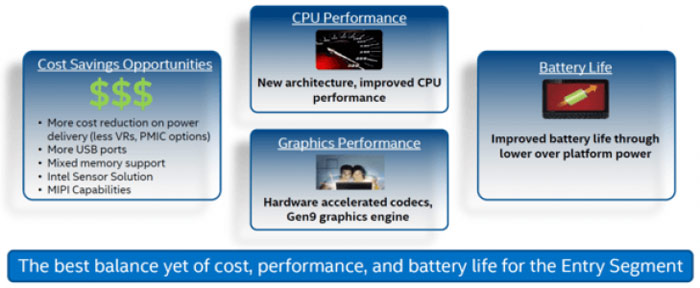 The first new low-power, low-cost Apollo Lake chips are expected to start appearing in devices in H2 this year. Just like predecessors these will be branded as Intel Celeron and Pentium N chips and are likely to feature mainly in lower cost laptops, Chromebooks, and 2-in-1s.