It has been a busy week for the boffins at ARM. The British firm laid the groundwork for 5G modems and next-generation storage with the unveiling of the Cortex-R8 just a few days ago and is now following up with the launch of the Cortex-A32.
Introduced as a capable, low-power performer aimed at embedded applications, Cortex-A32 is very much a case of ARM modernising its portfolio and offering a viable upgrade to the older Cortex-A5 and Cortex-A7.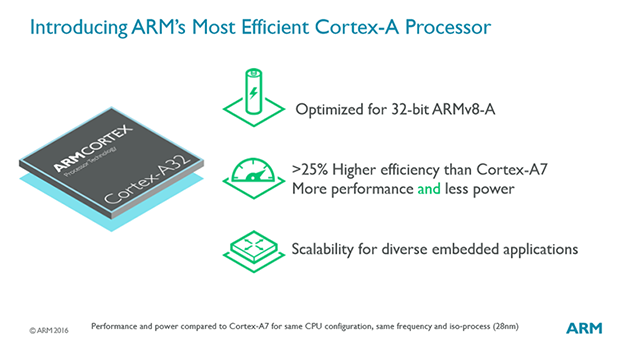 Slotting in below the Cortex-A35 in ARM's product stack, the new Cortex-A32 is one of the processor based on the ARMv8-A architecture not to offer support for 64-bit computing.
Geared, instead, for 32-bit-only applications, Cortex-A32 is aimed squarely at devices where cost and power efficiency reign supreme. Think wearables, smart home and you're on the right track, and ARM is understandably keen to point out that it already holds a massive 70 per cent market share in rich embedded applications.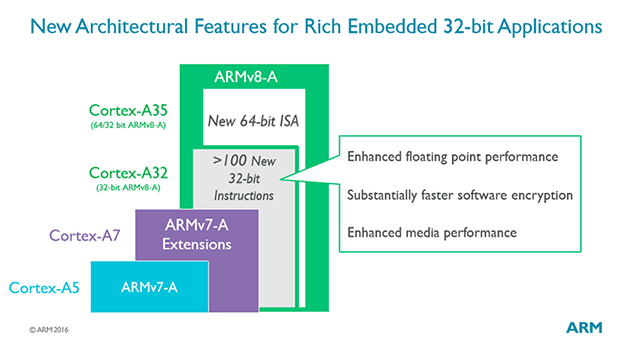 New 32-bit instructions made available via the ARMv8-A architecture are said to make Cortex-A32 at least 30 per cent more efficient than Cortex-A5 and at least 25 per cent more efficient than Cortex-A7.
Performance enhancements are always welcome, but Cortex-A32's ultimate goal is to help bring compute to a whole new generation of IoT devices and scalability will be a key contributor.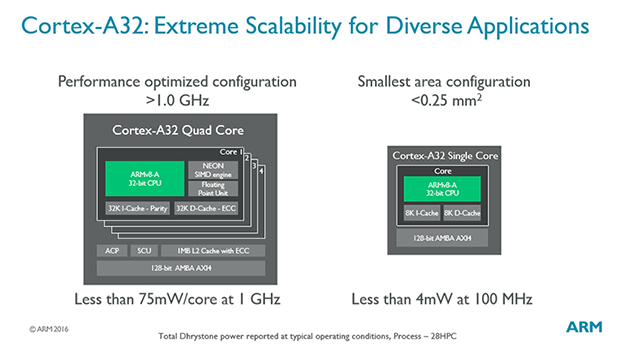 Effectively an area-optimised take on Cortex-A35, the smaller, leaner Cortex-A32 retains various architectural benefits of the ARMv8-A architecture but sheds support for 64-bit compute capabilities.
Efficiency is key and in a quad-core configuration, Cortex-A32 is estimated to sip less than 75mW per core at a 1GHz frequency. Showcasing the chip's ability to scale right down, a single-core configuration with cache would measure just 0.25 square millimeters, making it 37.5 per cent smaller than the equivalent Cortex-A35.