While we eagerly await the first Zen processors and APUs to arrive others are already discussing in detail the upcoming Zen-based Opteron processors being prepared by AMD. In a discussion on the topic of data centre trends, Liviu Valsan (a computer engineer at CERN) showcased slides detailing AMD's upcoming Zen-powered Opteron processors.
From material already published by AMD in January, on the subject of its Data Centre roadmap 2016 - 2017, we already knew there would be high core-count next-gen Opterons on the way, utilising Zen cores. At that time we also learnt that Zen Opterons would leverage 'disruptive memory bandwidth' using DDR4 and HBM and a high native I/O capacity.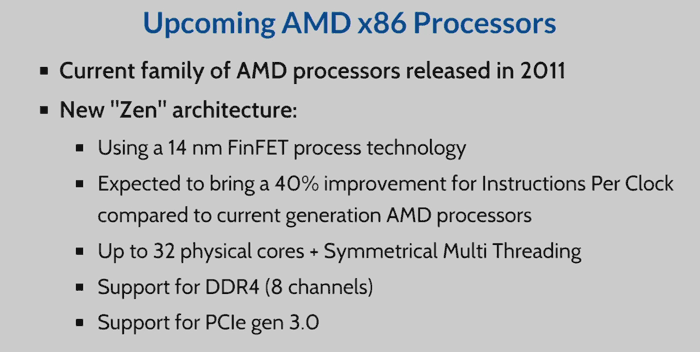 The new slide presented by the CERN engineer, above, provides some more specific information. The key piece of information it teases is that the Zen based Opteron processor will feature up to 32 physical cores and feature SMT (Symmetrical Multi-Threading).
We are reminded of other key Zen properties too; that it is built using 14nm FinFET technology, it is expected to bring a 40 per cent improvement in Instructions Per Clock compared to current generation AMD processors, and it can support 8-channel DDR4 RAM. With the headline Opteron part boasting 32-cores we will probably also see Opteron SKUs with 8, 16 and 24 cores. In the consumer space we should see FX series processors with up to 8 Zen cores.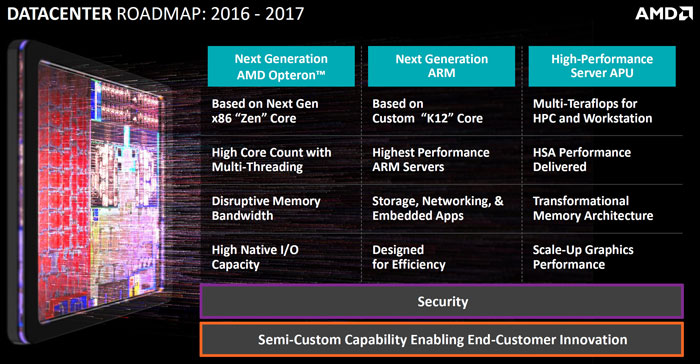 The first Zen-based processors for high-end gaming PCs are expected before the end of the current year, likely to debut in pre-built systems. The Opteron chips, discussed above, are expected to reach the market early in 2017.