AMD has historically built processors based on the x86 instruction set architecture (ISA). Competing against Intel across mobile, desktop and data centre, with both using the same basic ISA, has meant that, in recent times, opportunities for market-share growth have been limited.
Another simpler architecture has been the dominant force in the mobile space since time immemorial. Known as reduced instruction set computing (RISC) it has proven to be a great match for processors where energy efficiency is key. ARM and Imagination Technologies are key providers of RISC-based IP, with ARM now scaling processor designs enough for them to be considered in other areas such as entry-level servers.
AMD has seen the potential of these RISC processors as a viable and economical alternative to the stranglehold enjoyed by Intel in the datacentre space. Tapping into engineering expertise gained from 40 years of designing processors, AMD is, today, officially launching an ARM-based processor for the enterprise market. Enter the Opteron A1100, formerly codenamed Seattle.
CPU talk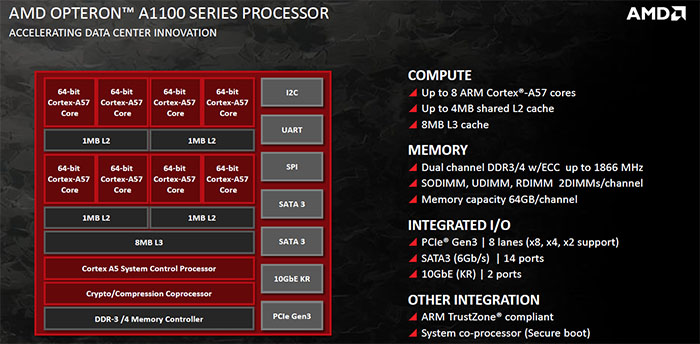 The AMD Opteron A1100 uses up to eight 64-bit ARM Cortex-A57 processors that are also commonly found within premium mobile phones and tablets today. There is a newer, faster processor available from ARM's current IP catalogue, the Cortex-A72, but engineering lead time has meant that, for the first generation at least, AMD has gone with tried and trusted technology.
Two CPU cores have access to 1MB of L2 cache. Scaling up to eight cores provides 4MB of L2 for the processors. There's an additional 8MB of L3 cache resident to mitigate the effects of cache misses. Designing a processor is all about weighing performance advantages - say, lots of cache - against the extra silicon cost of doing so. AMD's choice is typical of an entry-level enterprise-centric chip from ARM's partners.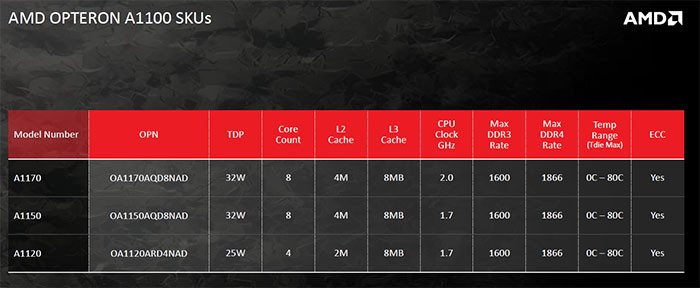 Three chips are currently available for customers looking to build relatively inexpensive, energy-efficient compute/throughput devices. The A1170, whose CPU cores run at up to 2.0GHz, is a faster iteration of the A1150. The A1120, meanwhile, has half the cores disabled although the full tranche of L3 cache is present. The trio of chips are manufactured on a 28nm process.
The Opteron A1100 can access up to 128GB of memory in dual-channel mode. Memory flexibility is key for making the processor attractive to a wide range of customers, so there's support for UDIMM, RDIMM and SODIMM at up to 1,866MHz speeds for DDR4 or 1,600MHz for DDR3.
My SoC is better than yours
But it's the additional I/O capabilities that separate one ARM-based product from another. In other words, the extra functionality contained within the system-on-chip (SoC) is where true differentiation takes place, and the choice of I/O and memory typically underscores the target markets. Want to be in the networking space? You need lots of bandwidth. Want to appeal to the professional storage crowd? Lots of SATA is key.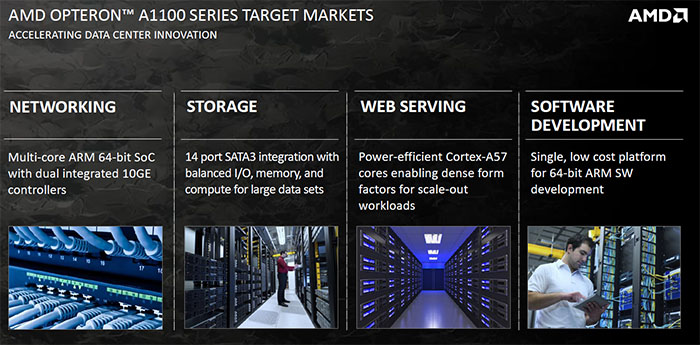 AMD wants a wide gamut of potential customers for the Opteron A1100. There's dual 10GigE controllers and 14 SATA ports for starters. AMD is therefore targetting the guys who want a choice of options for networking, storage and web front-end, which is typical territory for ARM-based designs.
ARM has been steadily building a case for serious consideration in the enterprise market. Identifying key areas where it claims an energy-efficiency and total cost of ownership advantage over Intel, usually in the networking and storage spaces, it has collaborated with a number of partners who build the processor silicon and others who integrate it into a motherboard and system.
The ARM-based market is already home to a number of players who offer the kind of technology AMD is making available today in the form of the Opteron A1100. Applied Micro sells enterprise-class SoCs under the X-Gene banner, and we've spoken to them before. Cavium, too, has been a long-time player in this burgeoning market; its fully-custom ThunderX offers Xeon E5-class performance.
Though the market for enterprise hardware based on ARM technology is beginning to take shape, particularly with operating systems such as red hat and SUSE now having full 64-bit support, AMD understands that it needs to partner with companies who will build the Opteron A1100 into systems or products that are shipped to the final customer.
Saddle up, partner
To this end, and available today, AMD has partnered with UK-based SoftIron to release the Overdrive 3000 1U rackmount system designed for the kind of workloads detailed above.
Loading...
Been waiting a while?
Get Flash
to see this player.
HEXUS has previously spoken to SoftIron with respect to the potential of the Opteron A1100 processor within an enterprise environment. Here's Mark Lewis, Chief Marketing Officer, detailing why he believes AMD's newest Opteron to be a solid fit.
Our take is that more entrants into the enterprise hardware space increases competition. The AMD Opteron A1100, which is a first-generation processor based on non-x86 technology, inevitably brings more choice... and that can only be a good thing.
Diversification is good practise for any business. AMD takes this to mean exploring new avenues where it can brings its technical expertise to bear. We expect the second-generation Opterons to feature customised cores and a greater number of I/O options. Watch this space for 2017.