New information has come to light which may shed light on the next generation APU to come from AMD. Twitter user Blue Nugroho, via WCCFTech, has released a quartet of slides which illustrate, among other things, that 2015's Carrizo APUs will be followed up by Zen APUs sometime this year.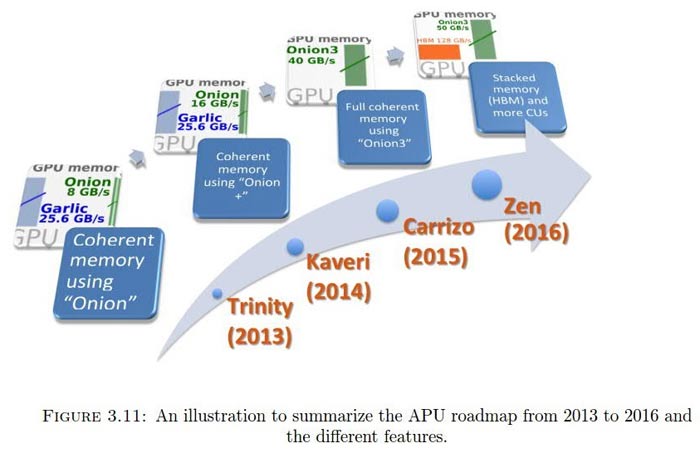 An AMD APU roadmap summary slide, above, shows the progression of this processor from Trinity, to Kaveri, to the current generation Carrizo, to Zen-based APUs next year. Over those generations we see APU total memory bandwidth rise from 8GB/s back in 2013 to 50GB/s later this year when the Zen APU gets released. Furthermore the APU will be built with 128GB/s stacked memory (HBM) and "more CUs", which we assume to be additional graphic compute units.
From some of the other slides it looks like the Zen APU will be marketed as 'enhancing ultra HD entertainment and gaming'. PCs with the new Zen APU will push further AMD's plan to make a single chip to provide robust, rich visual experiences to Windows 10 PC builds. The slides revealed in the Tweet come from a paper about CPUs, APUs and GPUs published last month with AMD Corporate Fellow and graphics engineer, Mike Mantor listed as a contributor.
2016 is certainly shaping up to become a pivotal and exciting year for AMD and PC enthusiasts. The above news points to competitive APU products coming along during the year, with other AMD CPUs and GPUs seen to be on their way to address the higher end of the market too.