ARM is today launching what it claims to be its most efficient application processor, the Cortex-A35.
Unveiled at TechCon 2015, in Santa Clara, California, the new processor is the latest addition to ARM's range of CPUs based on the ARMv8-A architecture and supersedes the popular Cortex-A5 and Cortex-A7.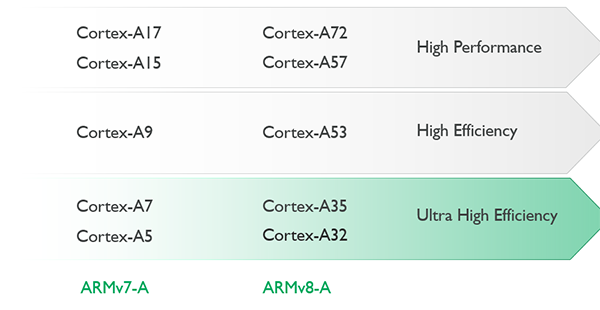 Prioritising energy efficiency and consequently better battery life, the new CPU has been licensed to various partners and is expected to appear in devices by the end of 2016.
Looking ahead to a 'mobile-first' world, analysts from ARM and Gartner predict that over one billion entry-level smartphones will be shipped in the year 2020, representing a compound annual growth rate of eight per cent.
Vying to dominate this growing space, the Cortex-A35 is geared toward bringing new user experiences to the next wave of affordable smartphones.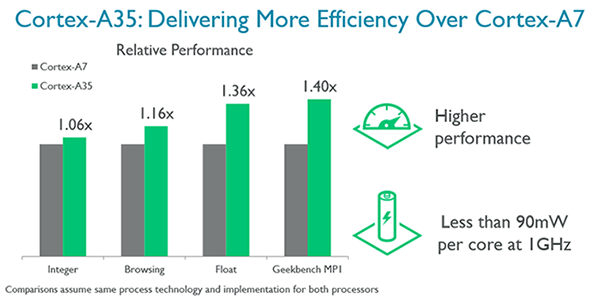 Maintaining big.LITTLE configurability and supporting both 32-bit and 64-bit compute capabilities, the Cortex-A35 core is typically 25 per cent smaller than a Cortex-A53 and consumes up to 33 per cent less power, making it a tailored fit for the next generation of low-cost devices.
Consuming a miniscule 90mW total power per core, Cortex-A35 is more efficient than the existing Cortex-A7 while harnessing the benefits of various architectural improvements. These include a redesigned instruction fetch unit, a new in-order, eight-stage pipeline and improved NEON floating-point performance.
Such enhancements can deliver performance gains of up to 40 per cent over the Cortex-A7 in a best-case scenario, though the Cortex-A35's real ambition is to deliver a complete 64-bit experience in a processor designed to be a "performance-per-milliwatt leader."
Commenting on the launch, James McNiven, general manager of ARM's CPU group, described Cortex-A35 as "the natural successor to the compact-footprint Cortex-A7, the leading energy-efficient processor, which has powered more than a billion smartphones and tablets."
"With the introduction of the world's most efficient 64-bit mobile processor, ARM and its partners will deliver the benefits of 64-bit computing to the next billion smartphone users and beyond," said McNiven.