AMD has launched its PRO A-Series processors for laptops and desktops. These processors are made to "deliver breakthrough performance and dependability optimized to meet the evolving budget and IT needs of businesses today and tomorrow." AMD says the new processor range features enhanced performance, reliability and silicon-level security, virtualization support plus compelling performance and exceptional value to businesses.
Jim Anderson, SVP/GM of computing and graphics at AMD, summed up the AMD Pro-A Series appeal as offering "unmatched dependability with platform stability, processor longevity and an opportunity for richer system configurations. AMD gives its customers choice and affordability to meet specific business needs, without compromising the ability to manage and maintain a secure, stable, and reliable environment." The mobile and desktop AMD PRO-A Series used to be codenamed Carrizo PRO and Godavari PRO respectively.
Accompanying the processor launch is a new tool called the AMD PRO Control Centre. It is aimed at small and medium businesses without their own implemented management tools. This tool facilitates workplace management of features such as AMD Energy Saver, PC Health Centre, USB Blocker and Wireless Display. See the video embedded below for more information.
AMD PRO Mobile
To crown the new mobile range AMD has introduced the AMD PRO A12 processor with a max CPU frequency of 3.4GHz. It is also the first mobile processor from AMD with 12 compute cores (4 CPU + 8 GPU) and Radeon R7 graphics, which run at up to 800MHz and feature 512 graphics cores.
Further benefits of an AMD PRO Mobile processor include; HSA 1.0 compliance, ARM TrustZone and AMD Secure Processor, SoC type design, and a HEVC decoder built-in.
AMD has the support of HP which is introducing new Elitebooks based on these APUs. New HP laptops using the AMD PRO mobile chips include the HP EliteBook 725, 745 and 755 series.

AMD PRO Desktop
AMD's PRO A-Series Desktop processors combine an aggressive price with "enhanced performance, socket compatibility for easy upgrades". For tasks like VOIP and streaming video, AMD Quick Stream PRO is said to virtually eliminate the lag that users may suffer from with other processor solutions.
Lenovo has chosen to use the PRO-A range of processors in its M79 Tower and ThinkCentre desktops "to deliver great value without sacrificing performance or manageability". HP also uses AMD Pro desktop range processors in its EliteDesk 705 Micro Tower PCs.
AMD embedded graphics lineup expanded
In other recent news from AMD, multiple new discrete Embedded Radeon graphics options were announced. These products are aimed at engineers designing embedded systems that are required for graphics intensive tasks like offering user experiences with 4K multi-screen installations and 3-D and interactive displays. The products can also be used for parallel compute tasks.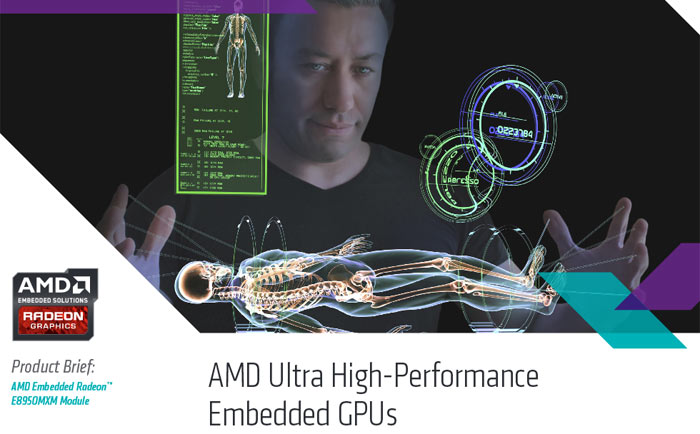 AMD is offering three levels of performance in its graphics cards for the embedded market, as follows:
Ultra-High Performance: The AMD Embedded Radeon E8950MXM Module, the highest performing embedded graphics processing unit (GPU) from AMD.
High Performance: The AMD Embedded Radeon E8870 Series (MXM and PCIe), offering high performance solutions for virtually any embedded application.
Power Efficient: The AMD Embedded Radeon E6465 Series (MCM, MXM and PCIe) providing excellent processing performance at low levels of power consumption.
As you might note from the above, AMD is supplying these embedded graphics products in various packages; in Multi-Chip Module (MCM), Mobile PCI Express Module (MXM) and PCIe options. It is the only vendor with MCM solutions for systems designers. AMD expects to do well with these new embedded solutions as rich, vibrant graphics demand is greater than ever for such systems and it has seen demand growing.