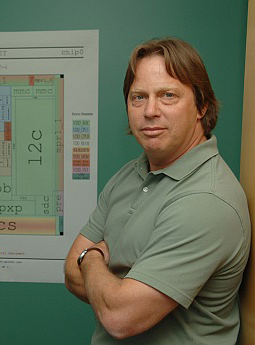 AMD has experienced its fair share of high-profile departures this year, but today's exit is arguably the one that will resonate with the enthusiast community and AMD's most fervent fans.
Jim Keller, former Chief Architect of Microprocessor Cores, will leave the company today to pursue other opportunities.
Well known for his work during AMD's heyday, Keller (pictured) was involved in the creation of the original Athlon architecture, K7, and then served as a lead architect on K8. After playing an instrumental role in developing the world's first native x86-64 bit architecture, Keller later joined Apple and helped develop the company's A4 and A5 SoCs before rejoining AMD in 2012 to spearhead the firm's upcoming Zen architecture.
Speaking to HEXUS, an AMD spokesperson has stated that "Jim was responsible for overseeing the teams defining the roadmaps for AMD's CPU cores, systems IP, and server and client SoCs. "
Attempting to allay any fears over the impact of Keller's departure, the company adds that "Jim helped establish a strong leadership team that is well positioned for success as we enter the completion phase of the "Zen" core and associated system IP and SoCs."
"Jim's departure is not expected to impact our public product or technology roadmaps, and we remain on track for "Zen" sampling in 2016 with first full year of revenue in 2017."
Looking ahead, Mark Papermaster, AMD's Chief Technology Officer, will step in as acting leader for Keller's team and will now help oversee one of the most important products in the company's history.