Silent computing enthusiast site Fanless Tech has published some exclusive slides which appear to come from an official Intel PDF presentation deck. Interestingly the three slides compare previous generation Broadwell and next generation Skylake processor feature advancements and performance. According to the slides the mobile and desktop Skylake chips will offer end users at least 10 per cent faster CPU operations and 30 per cent faster integrated graphics, on average. Mobile users will also benefit from noticeably better battery life.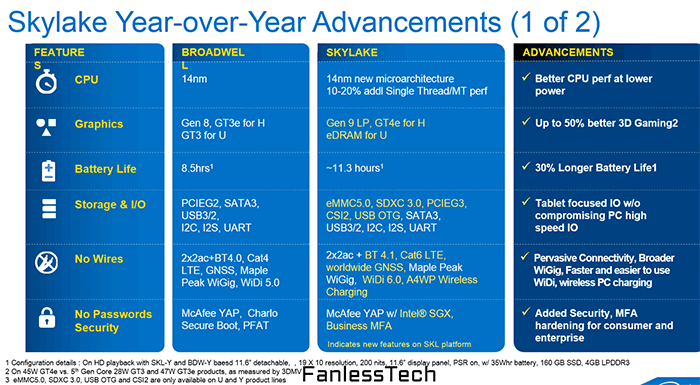 The first two slides compare Broadwell and Skylake to show "Year-over-Year advancements". If the slides are genuine, Intel is claiming that the new microarchitecture offers between 10 to 20 percent better CPU performance with lower power usage. The best increases look to be coming to the mobile Y-Series processors (up to 17 per cent faster). On the desktop, the Skylake-S processor is up to 11 per cent faster according to the SPECint_rate_base2006 benchmark.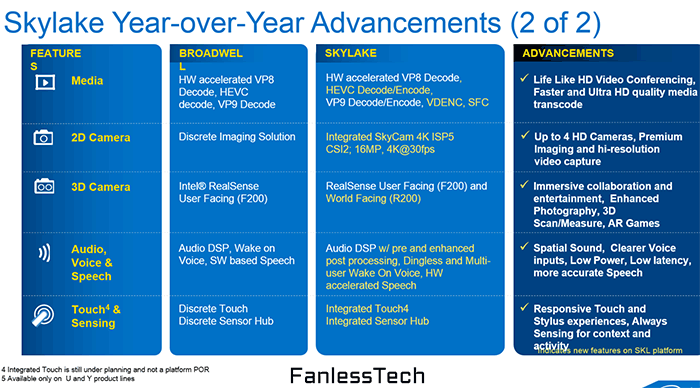 Graphics are most significantly improved in Skylake– a Y-Series Skylake mobile processor can offer HD Graphics that are over 40 per cent faster than the equivalent Broadwell chip. Again moving to the desktop processor comparisons, the gains are less compelling but significant – Intel has recorded 3DMark 11 benchmarks on Skylake-S chips that are up to 28 per cent faster than its Broadwell parts could achieve.
Another important specification upgrade in Skylake is its power efficiency. Mobile parts like the Y-Series and U-Series chips will offer users with 'regular' batteries up to 1.4 hours longer HD video playback enjoyment. On the desktop users will benefit from a processor with a 22 per cent lower TDP but which is, as mentioned previously, a better performer in both CPU and GPU calculations.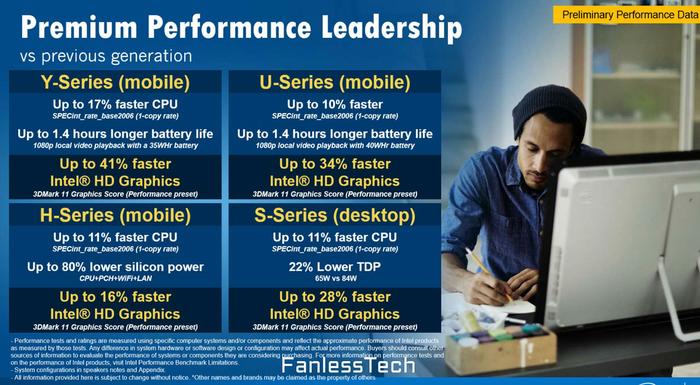 Platform feature enhancements go beyond CPU, GPU grunt and greater energy efficiency. The comparison shows Intel will also improve; I/O speed and capability, wireless networking, security, HEVC encode/decode, camera input quality, 3D camera support, enhanced audio and better touch and sensing experiences.
As a related news reminder, we expect Intel to launch the first Skylake processors at Gamescom early next month. There are also reports saying that the Microsoft Surface Pro 4 will launch, equipped with a Skylake CPU, in October.