Today AMD has launched the affordable A8-7670K APU. AMD is targeting "Microsoft Windows 10, mainstream workloads, and eSports online gaming," with this new Kaveri refresh processor. The AMD A8-7670K APU is powered by 10 compute cores (4 CPU + 6 GPU) which should help you multitask smoothly.
Headline speeds on offer from the AMD A8-7670K APU are; CPU speeds of 3.6GHz / 3.9GHz Turbo and GPU speeds of up to 757MHz. The A8-7670K replaces the A8-7650K APU at the top of the A8 series and has both faster CPU and GPU speeds, as you can see from the comparison table below.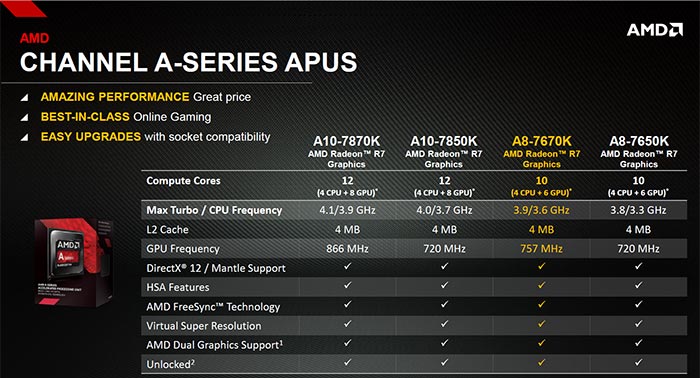 AMD wants prospective buyers to compare its APU solution not just against the similarly priced Intel Core i3-4160 but also against the popular Intel Pentium G3258 Anniversary processor paired with a discrete graphics (an Nvidia GT 730 in this case). The new AMD A8-7670K APU is said to be available immediately at US$117.99 which compares favourably with both those competitive solutions. Let's look at AMD's comparisons…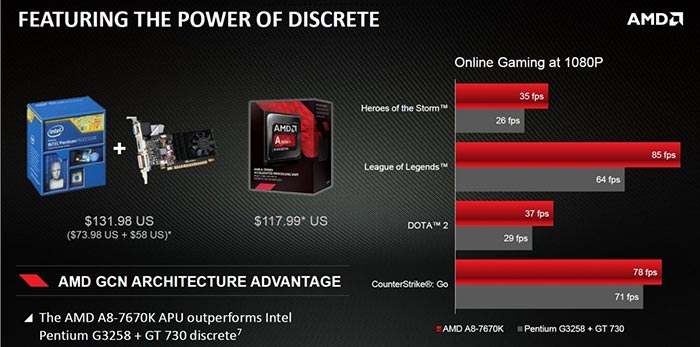 First of all looking at some gaming scenarios. AMD's new A8 Kaveri refresh APU can perfrom better in online 1080p gaming than the Pentium G3258 + GT 730 solution according to AMD's tests. Most of the performance margins, shown above, would be quite noticeable and the AMD APU costs about $15 less than the combined Intel/Nvidia solution.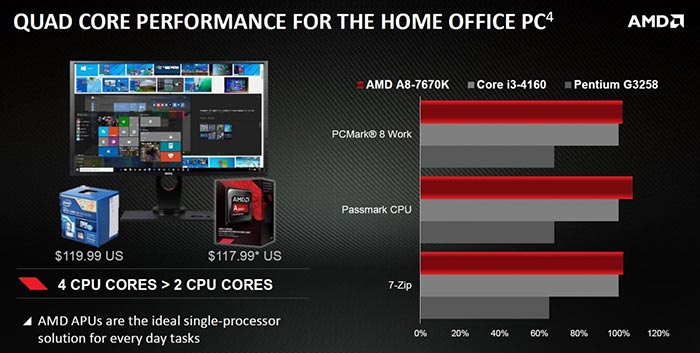 Now let's look at productivity. AMD used productivity benchmarks including PCMark 8 to test the A8-7670K APU against both the Intel Core i3-4160 and the Pentium G3258 + GT 730 setup used in its 1080p gaming tests. Taken at face value the Kaveri refresh results show the good all round nature of the A8-7670K in 'everyday tasks'. Comparing the AMD A8 against the Intel Core i3 using specialist, compute-heavy apps like 3D Mark and Adobe Photoshop showed AMD's processor in an even better light, as seen below.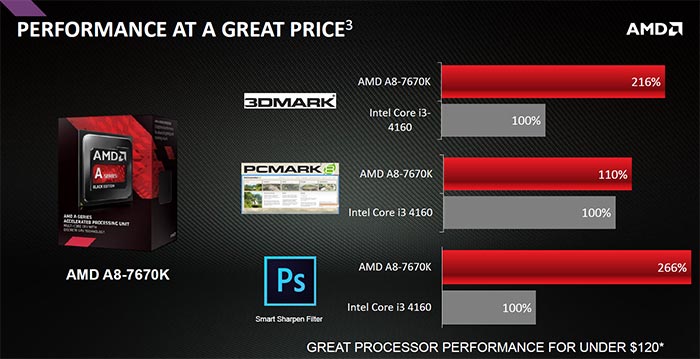 Despite aiming at the affordable market, AMD's $117.99 processor is unlocked and users can probably squeeze a good bit more performance from these APUs using AMD Overdrive and efficient cooling.
UMC starts volume production of AMD Radeon R9 Fury X interposer
In other AMD news today an essential component used to fuse HBM DRAM with AMD's GPUs has now entered volume production. A PR newswire release says that UMC's Singapore fabrication facility has ramped up production of the Through-Silicon-Via (TSV) technology used on the AMD Radeon R9 Fury X.
It's good to hear that AMD is getting volume production plans rolling from one of its key component partners. It must be feeling confident that it can shift some units of the already released Radeon R9 Fury X, Fury and of the soon to launch Nano graphics card.